Lifetime Supporting Member
Join Date: Feb 2012
Location: Houghton, Michigan
Posts: 2,231
Quote:
Originally Posted by Dyno Don
Without having Ford spec fluids in the differential, you have 0% chance of having any warranty claims honored for the rear end & associated parts.
Hi, Don. My warranty is really up anyhow. I did some research long ago on lubricants and Mobil 1 was possibly the best. All synthetics are not the same, I just used Royal Purple because it came with some other stuff I ordered. I won't use it again. Mobil 1 also makes a full synthetic ATF which our Mustangs use in the manual trans case. When I owned the '07 GT/CS I used M1 and immediately the car shifted easier and quieter. Not cheap stuff, but most good things cost a few bucks.
---
Former owner of 6010.
2011 Mustang GT
Mods: JBA ss ceramic coated 1 7/8 headers with HF cats and stock axlebacks. Roush 2300 TVS supercharger with upgraded fuel delivery (47lb injectors, boost-a-pump, H0 plugs). Dyno'd 591 RWHP(w/stock exhaust). Boss oil cooler. Exedy 500 clutch w/billit steel flywheel. Whiteline rear LCAs, Tokico D-spec adjustable shocks/struts, BMR watts link and relocation brackets. Ford Racing "P" springs. DS shop carbon fiber driveshaft.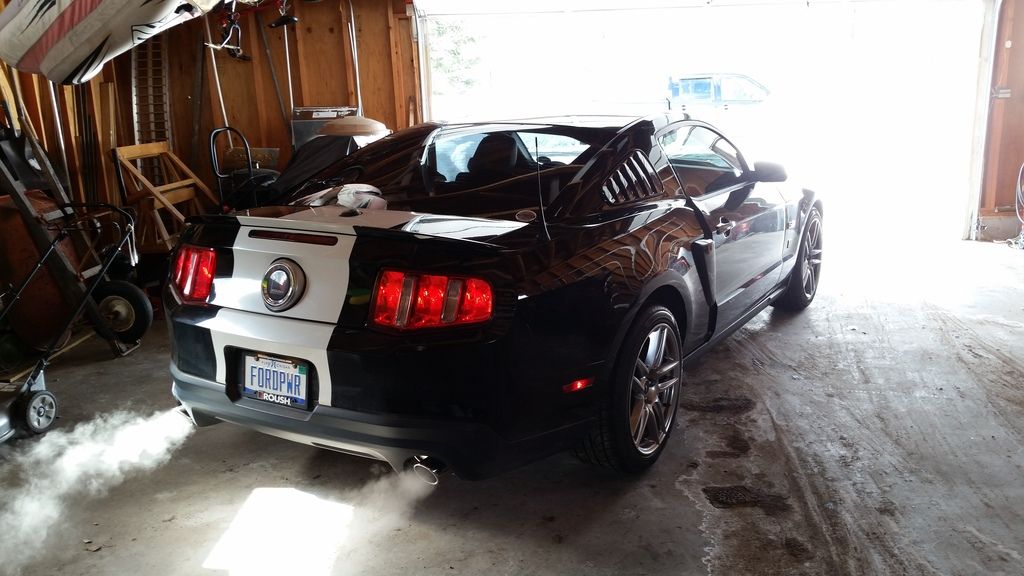 Mega BullittHead
Join Date: Jun 2010
Location: virginia
Posts: 163
HAHA Tasca Dyno'd my car, proceeded to smash my door into the wall in their dyno room. waited for me to see it the next day to tell me about it, the general manager refused to speak to me about it. only offer i got was to have them do all the body work.... i said no, i want my guy to do the body work..... needless to say i was ignored after that. screw tasca.
---
2008 DHG #1914. FRPP intake manifold, FRPP throttle body, FRPP hot rod cams, FRPP laser etched black valve covers, under drives, JLT catch can, SLP long tubes, high flow cats, PYPES loud mouths, eibach front and rear adjustable sway bars with heavy duty links in the front, koni yellows w/ FRPP 1 inch lowering springs, GT500 upper strut mounts, UPR rear lower control arms, adjustable rear upper control arm, whiteline adjustable panhard bar and brace, MGW short throw, driveshaft shop aluminum shaft. 341 rwhp, 315 rwt