Monster BullittHead
Join Date: Jul 2002
Location: Phoenix/Seattle
Posts: 1,131
Old and New
---
So I haven't posted in quite a while, but since my last post I've successfully relocated to where I'm from in the Phoenix area.
I'm working on Ford's Arizona Proving Grounds in the Northwest valley. For the last week or so there's been this '08/'09 Bullitt parked in the back with all the test cars. I thought it was strange since it's not new and it's not even the current model Mustang or anything, but it did have Michigan manufacturer plates.
Anyway, I'm leaving work today just about to get to the gate and I see that it's behind me. I turn out of the grounds and he follows me for 5 minutes or so until he has an opportunity to pass. I wave, he waves back, and two gearheads go on their way.
Sorry, no further point to this story, it just made me happy.
The car is a true treasure, even at 127,000 miles!
---
---
Thanks for sharing the Story with us.
tigerhonaker
---
Brenspeed Talks about a Long Term 1,000 at the Crank H/P Project and Dream Car.


You Broke the Server!
Join Date: Mar 2007
Location: Vancouver,BC Canada
Posts: 6,396
Been a few years since I seen ya at some show in wash state....guess your not missing the rain...have fun back in az
---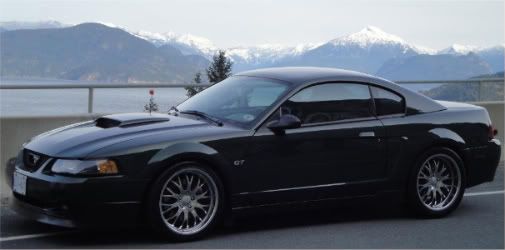 Konis,Eibach sportlines,MM caster camber plates,MM X adjustable lower control arms,MGW Shifter,Alum driveshaft,Mac Prochamber,Mach chin spoiler,19" Forged wheels with BFG 255/295
Best 1/4mile Vortech V1 13.29@106mph
PY-Like BullittHead
Join Date: Sep 2012
Location: NJ
Posts: 2,618
Nathan, you work for Kett? I can't remember any of the other companys that hire 'proving ground' guys? I worked for Kett Engineering for a week!
I was a driver at GM down southeast Mesa area. It was cool seeing 'upcoming' cars and trucks before John Q. Public.
Where do ya live? Funny, my Mom lives in Bellevue WA. now and we lived in Scottsdale forever. Small world!
Chris