Last major Up-Date are these Posts
​
<object style="WIDTH: 640px; HEIGHT: 390px">&ampampampampampnbsp
&ampampampampampnbsp
<embed src="http://www.youtube.com/v/VPs42Mkw-7U?version=3" type="application/x-shockwave-flash" allowfullscreen="true" allowscriptaccess="always" height="360" width="640"></object>
March 29, 2011
This Link will take you to the Newest Post
on the "tigermachine".
It ia about changing to the
Boss R 19" Wheels, GT-500 Brakes Complete.
Hurst Shifter Mod with MGW Mechanism.
Steeda Ultra-Lite Springs.
​
This is the "Link" to the LAST Change made to the "tigermachine"
​
The tigermachine is being Raced this (Week) in
​
​
June 2010
<object height="385" width="480">
<embed src="http://www.youtube.com/v/imIjcfyaikA&hl=en_US&fs=1&rel=0" type="application/x-shockwave-flash" allowscriptaccess="always" allowfullscreen="true" height="385" width="480"></object>
Post #1 You are on:
There are

"9"

Total Post here to read
​
The

1st Post

here that you are on "NOW".
​
Then Post #432
the Link Below in "Black" will take you "Directly" to it​
The 3rd Post is #685
Post #4 Link is Below:
The 4th Post is #781
Completed on Feb. 10, 2010
Click on the Link Below in

Yellow

:
http://www.imboc.com/forums/showthread.php?p=2029849#post2029849
Post #5 Link is Below:
493.41 RWHP Bullitt
Done on May 22nd, 2010
http://www.imboc.com/forums/showthread.php?p=2055399#post2055399
Post #6 Link is Below:
Last Up-Date is June 10, 2010
​
http://www.imboc.com/forums/showthread.php?p=2059885#post2059885
Post #7 Link is below
Last Up-Date is July 31, 2010
Post #8 Link is below
This is where it all began Below.
After you See & Read this Post
then you "Click" on the other
(Links-Above)
to get to eack "Change".
Video of the
"574.74" New Flywheel H/P
as of
Jan. 03, 2010
2008 Bullitt Mustang
​
​
This Post is going to be for those that would like to See & Read
about Mods.
Also, for those that simply LUV Fast Mustangs.
​
I picked BRENSPEED in Pierceton, IN. to do my 08 Bullitt Mustang.
I would recommend them to anyone. They are a 1st class operation.
​
They also offer their Guest House to Out-of-State customers that
are traveling long distance. A simple phone call 1-574-594-9559
will "Reserve" it.
​
Here are Pics of the Guest House.
​
I stayed at the Guest House while the Bullitt was being Modded.
There was at times two Techs. (Mike & Dave) working on the Bullitt
at different times. Mike (Primary Tech) started on the Bullitt as soon
as they opened and stopped when they closed. He took a Very-Small
lunch break and was right back to work. Dave also as I said worked
on it some while Mike was working on a different area.
​
tiger & Karen White (Ms. Brenspeed)
2nd row
Ron, Fran, John, Rick & Brent White (Mr. Brenspeed)
​
Tigerhonaker's Mod-List
​
This has Been Up-dated
COBRA JET BILLET ALUMINUM THROTTLE BODY
Twin 63.5mm bore (stock SVT Mustang is twin 60mm)
Last Pics Below on Build
Dave in the background taping up the hood
​
Dave laying stencil on hood & marking where to Exactly-Cut for Shaker
​
​
Dave cutting hood out for Shaker
​
Hood has been cut out for Shaker
​
​
Dave with Cut-Out hood piece
​
​
"Thumpr" Stage-1 Comp Cams
​
These have been "Removed"​
And
Changed-To
The Brenspeed "Custom" Grind NSR Blower Comp Cams
​
​
"Thumpr" Comp Cams & Phasers being installed
​
​
​
"Thumpr" Stage-1 Comp Cams installed
​
​
Parts roll in
Brisk Racing spark plugs ready to go in
​
​
​
MSD Coils ready to go in
​
​
​
​
Moser Axles, Eaton Posi unit, etc. on table
​
​
Moser Axles ready for install
​
​
Dave with Eaton Posi ready to install
​
​
​
​
​
​
Eaton Posi Unit installed with Yellow Marker to set Depth
​
​
​
Mike with Kooks Header to install
​
​
Mike holding Kooks Catted High-Flow H-Pipe to install
​
​
Kooks Header seen from engine bay
​
​
Complete Kooks Catted High-Flow H-Pipe installed W/Headers
​
​
​
Mike installing BMR Billet Lower control arm
​
​
BMR Panhard Bar relocation bracket
​
​
Mike carrying Steeda Adjustable Panhard Bar
​
​
Moser Axles, Eaton Posi, Steeda Heavy Duty Panhard Bar Brace
​
installed. Steeda Adjustable Panhard Bar hanging down
​
Steeda Adjustable Panhard Bar, Eaton Posi Unit, FRPP Reinforced
​
Differental Cover, Moser Axles all installed
​
Dave Removed Stock fuel pump
​
​
Dave installing FRPP GT500 Fuel Pump Assembly
​
​
Dave holding the Complete wiring harness to the GT500 Fuel Pump
​
​
GT500 Fuel Pump Wiring routed into Passenger side footwell for install
​
​
MSD Coils installed and notice wiring harness on right. That is
​
where the New electronics are tied into. Stock intake is removed
​
Mike with stock intake removed and Steeda "Billet" Plates still installed underneath
​
​
Saleen Supercharger still in boxes
​
​
Saleen Stage-3 + Blower assembly
​
​
Saleen with Top Section removed for Shaker install
​
​
Look at the Pulley on the "Left" compared to the 3.2 pulley on the
"Right" installed. The 3.2 is rated at 11.5 Lbs. boost.
​
​
Mike (Left) & Todd (Right) ready to sit Saleen Shaker in place.
​
​
Mike, positioning Super-Shaker
​
​
Saleen Supershaker in place & wiring is completed on right side
​
​
FRPP 39 Lb Ford Racing Injectors on cart ready to be installed
​
​
FRPP 39 Lb Racing Injectors W/Fuel Rails being installed
​
​
Steeda Upgrade Belt Tensioner W/Billet Wheel
​
​
Steeda Upgrade Belt Tensioner W/Billet Wheel
​
​
Steeda Upgrade Belt Tensioner W/Billet Wheel & V/10 Over Size Water Pump Pulley installed
​
​
Latest Saleen Supershaker
​
​
Latest Saleen Supershaker
​
​
Latest Saleen Supershaker
​
​
This Bracket in Front was "Made" by Dave because this Saleen
Blower is so New the Bracket shipped was incorrect. Dave made the
"Bracket" at the Shop and it looked like it came from Saleen. (Perfect) !!!
​
​
Saleen Supershaker upper parts installed (Red is Filter Cover for Rain)
​
​
MRT "Black" hood struts, Red Top Optima Battery & Top on Shaker
​
​
UPR oil catch can (Stainless)
​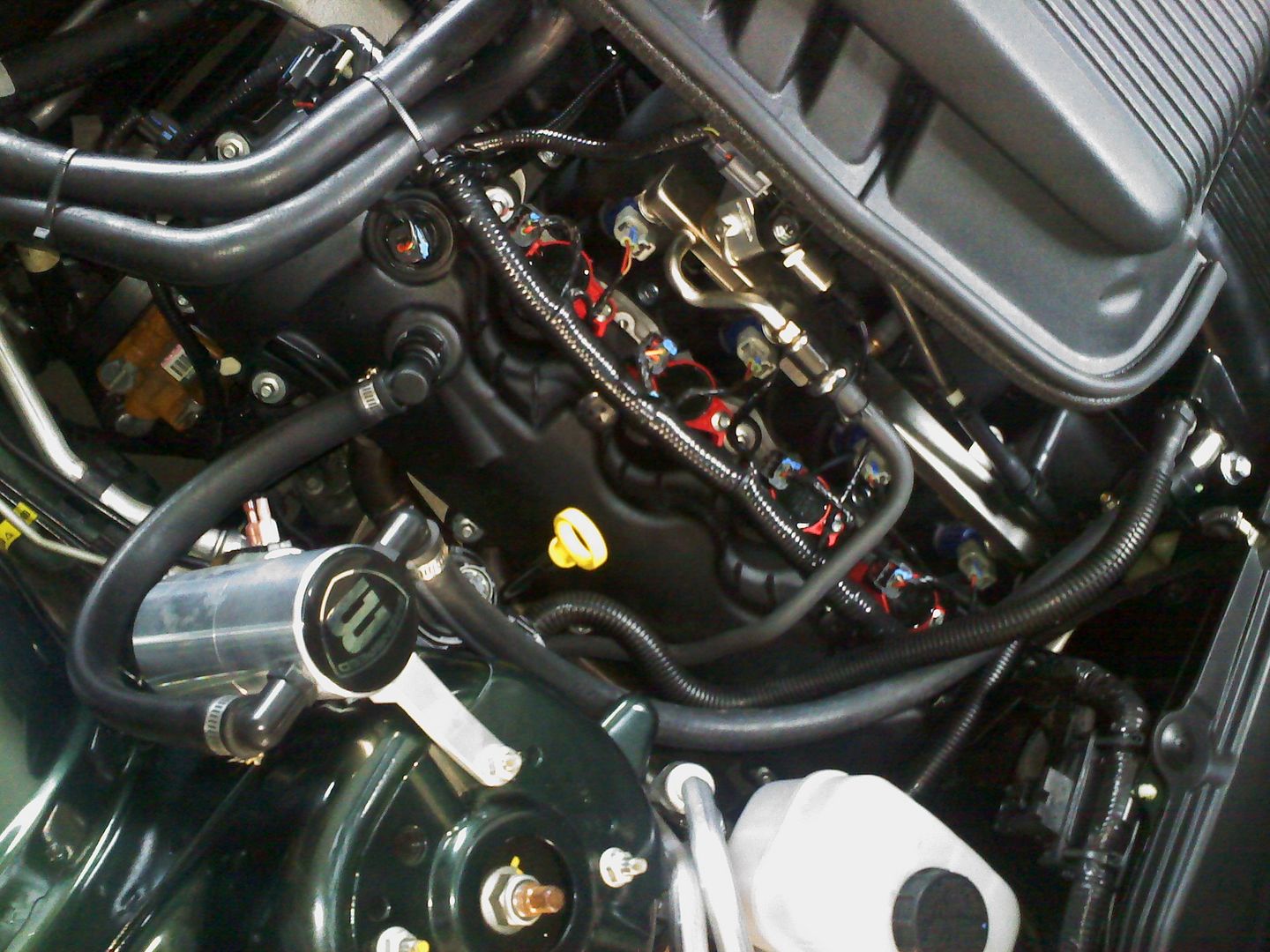 ​
Mike, is stripping the tape off & instaling 3M "Wider-Tape" to the
Shaker Hood Trim
​
​
This is the 3M Wide Tape & Automotive Adhesion Promoter he uses
​
​
New 3M Wide Tape installed on Hood Trim piece
​
​
Mike installing Shaker Hood trim piece after cleaning with "Promoter"
​
​
Silverhorse Racing Black Billet Fuel Door installed
​
​
Billet Hood Pins W/No-Logo
​
​
Billet Hood Pins W/No-Logo Dave doing the "Drilling". Mike holding
the hood Steady. This was a very time consuming operation.
​
​
Mike finishing with drilling the final 8-Holes and using Blue Loctite
on screws so they would not back out. (Opinion) I would not do these at home.
​
​
Mike installing the Steeda Upgrade Heat Exchanger
​
​
Inner fender covers removed for Steeda Heat Exchanger install
​
​
Steeda Upgraded Heat Exchanger installed, 160 Degree Thermostat,
Royal Purple Ice
​
​
​
Mike starting to install the Autometer A/F, Fuel Pressure, Boost
Gauge & Raptor Shift Light
​
​
Here is a pic of the back side of the Gauges showing all the wires
​
​
Drivers side where the Gauges wire gets hooked up. A lot of wire.
All wiring is "Soldered" & Heat Shrink Tubing used.
​
​
Inside drivers door showing wiring to be connected, soldered
​
​
All Gauges/Raptor Shift Light installed. Mike took the time to set my
dash lights the exact Blue-Color the New Gauges were. He also
hooked them up to the (Dimmer) for night driving.
​
​
Bullitt was Test Driven & then Fans were put
underneath to "Cool" it down
for next install
​
Saleen came in for some added (Power) & Brake Upgrade.
Bullitt is waiting for "Lunch-Break" to end​
Mike is dropping the transmission to install the
(Spec Stage-2 + Clutch) & (Spec Steel Flywheel)​
​
Transmission, Dynotech 3.5" Aluminum Driveshaft is out.
New Spec Stage-2 + Clutch & Steel Flywheel
being installed
​
​
Spec-2 + Clutch, Rated at 669 Lbs. Torque, Pressure Plate, & Steel Flywheel
ready for install
​
​
Spec Steel Flywheel installed
​
​
Spec Clutch Disc installed
​
​
Spec Pressure Plate installed
​
​
CHE Torque Limiting Brace
​
​
CHE Torque Limiting Brace, Kooks Headers W/High Flow Cats, H-Pipe from underneath
​
​
BMR Front Driveshaft Loop installed
​
​
BMR Front Driveshaft Loop Installed
​
​
Chandler installing the Saleen Valve Stem Caps (Match Supershaker)
​
​
Todd hooking Bullitt up for Brent (Mr. BRENSPEED) to do Dyno Runs
​
​
Bullitt Locked in Place on Dyno by "Todd" the Main-Man !!!
​
​
​
Brent with Laptop in hand
and setting Dyno Computer up
for Pulls
​
Inside Bullitt looking at Tuner, Laptop etc.
Next Picture will be "Close-Up" of Laptop Screen
​
​
"Close-Up" of Laptop Screen
​
​
Brent in Bullitt now doing the Dyno-Runs
​
​
Major Wide-Screen Display to view from outside Dyno Room
through Multiple Windows
​
​
My Bullitt on 1-Dyno Run
​
​
Last Pull on Dyno is in "RED" on Graph
​
​
Print out from Last Dyno Pull
​
​
This is an overlay showing the (Flywheel Horsepower) in "Yellow".
This is what you (Usually) read in Magazines on all vehicles like the
Shelby GT500, SS Camaro, SRT8 Challeger, Charger etc.
Gives you an idea of just how STRONG this 2008 Bullitt Mustang is.
​
​
Here are the things I did "Before" I went to BRENSPEED in
Preparation for the (Increased-Power).
​
Custom Limited Edition Plate along with Strut-Tower-Brace
Here is the New Custom Plate
​
Custom Plate fits right in
the Rectangle Box
​
​
New Tires that are the Exact same ones that came on the GT500
Mustang.
​
​
​
​
​
​
Painted for 1-week underneath every Rusted place I could find. It
was so HOT I had to cover up to keep from Scorching my Legs on
Top and Bottom against Asphalt Driveway.
​
​
​
​
​
​
​
Installed H&R Hub Centric 25MM Front & Rear Wheel Spacers.
​
​
​
​
​
The rear spacers go on with (No-Problem) & Wheels fit Great
But the Front Spacers fit okey but you have to "Cut" Off your
existing 5-Wheel Studs. They stick out to "Far". This is how you
should do the cutting. High Speed Dremel Tool W/Cutting Blade.
Look at this Pic and notice I left the Wheel-Lugs on next to the
Lug I was Cutting-Off. This way No-Messed up Threads.
​
​
Here are the Pieces that were Cut-Off. Notice they are different
Heights.
​
​
This pic shows the Finished Product. After cutting those Lugs off.
You have to then use the Dremel with a Grinding-Wheel. To make
all the Cut-Off-Studs as close as possible to the same (Length).
You, Do-Not actually Cut or Grind any of the (Threads). You are
only working with the end of the studs before you get to the
Threads. Takes time but (Not-Hard) to do.
​
​
I sent my 2-Back Stock Wheels to James at Weldcraft to have them
(Widened). They were 8.5" stock and they added 1.5" to make them
10" Wide. Shelby GT500 has 9.5" Wheels Front & Rear.
I know many of you are interested in this so you can retain the
Stock Wheels, so here are many Pics of the Widened Wheels.
​
​
​
​
​
​
​
​
​
​
Here are the 2-Rear wheels Mounted & Balanced
This one took only 1-Weight
​
​
This one took 2-Small Weights
​
​
Here is the (Front-Side) of the Wheels as I removed them from the
Very-Well-Packed Box.
Notice, Not a Mark, Period !!!
​
​
Here are 2-Pics of the Box they came back in.
They were (Double-Boxed) and then had Bubble-Wrap.
​
​
​
Here are 3-Pics of the Rear of my Bullitt.
I changed the Fake Gas Cap to a
(Silverhorse Racing Black Billet Trunk Emblem).
I Added the (Silverhorse Racing Black Honeycomb Taillight Panel) to
match the Front. BRENSPEED then Added the (Silverhorse Racing
Billet Fuel Door).
​
​
​
​
Here is a Pic of My-Bullitt sitting outside for Months while doing
the above changes.
​
​
The Bullitt with "Giant tiger Claws"
ready to leave on Saturday
​
​
Al & His Son Aaron the morning we are leaving
​
​
Tiger in Front, Chandler on Left, Rick on Right
the Saturday Morning I left
​
​
The New "Bullitt-Mustang"
after


The BRENSPEED Saleen Supershaker




Modded Makeover




I really hope the ones Seeing & Reading this Post find it
informative as well as interesting. My wish is to "Provide"
those of you with Limited Performance Knowledge a
"Resource" here that is (Factual).
​
Happy-Modding Everyone ..........
​
Terry Honaker aka "tigerhonaker"
Here is the "Action"
Video
​
http://www.youtube.com/watch?v=5KTt4wwRxFE
Just returned from BRENSPEED
With
this Purchase & Install
​
COBRA JET BILLET ALUMINUM THROTTLE BODY
M-9926-CJ*
Service replacement for the 2008 Mustang FR500CJ race car

Fits in factory location on 2007-2009 SVT Mustang
Twin 63.5mm bore (stock SVT Mustang is twin 60mm)
Tested to over 800 hp in 2007-2009 SVT Mustang applications
Precision machined from billet aluminum to ensure consistency
Polished finish with machined Ford Racing logo
Tested to Ford original equipment specifications for cold and hot weather
Fully assembled, complete with throttle position sensor and actuator motor, ready to bolt on!
Uses OE gears to prevent gear bind and wear common with other aftermarket throttle bodies
Does not include calibration, calibration may be required in some applications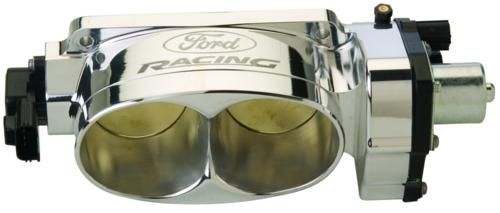 ​
Mike tearing it down
​
Top of Saleen Supershaker off
​
​
Stock Throttle Body Removed
​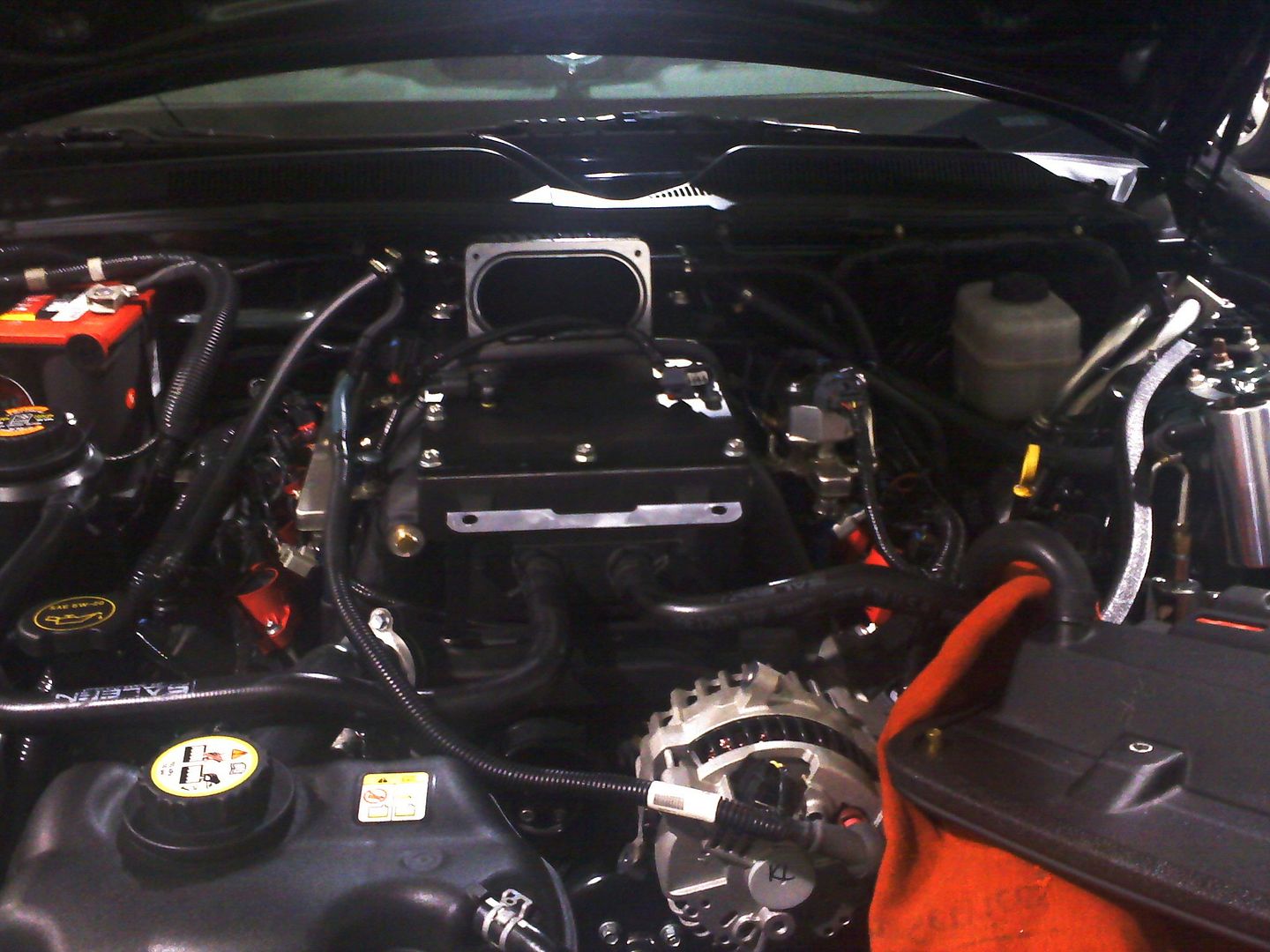 ​
Stock Throttle Body on Table
​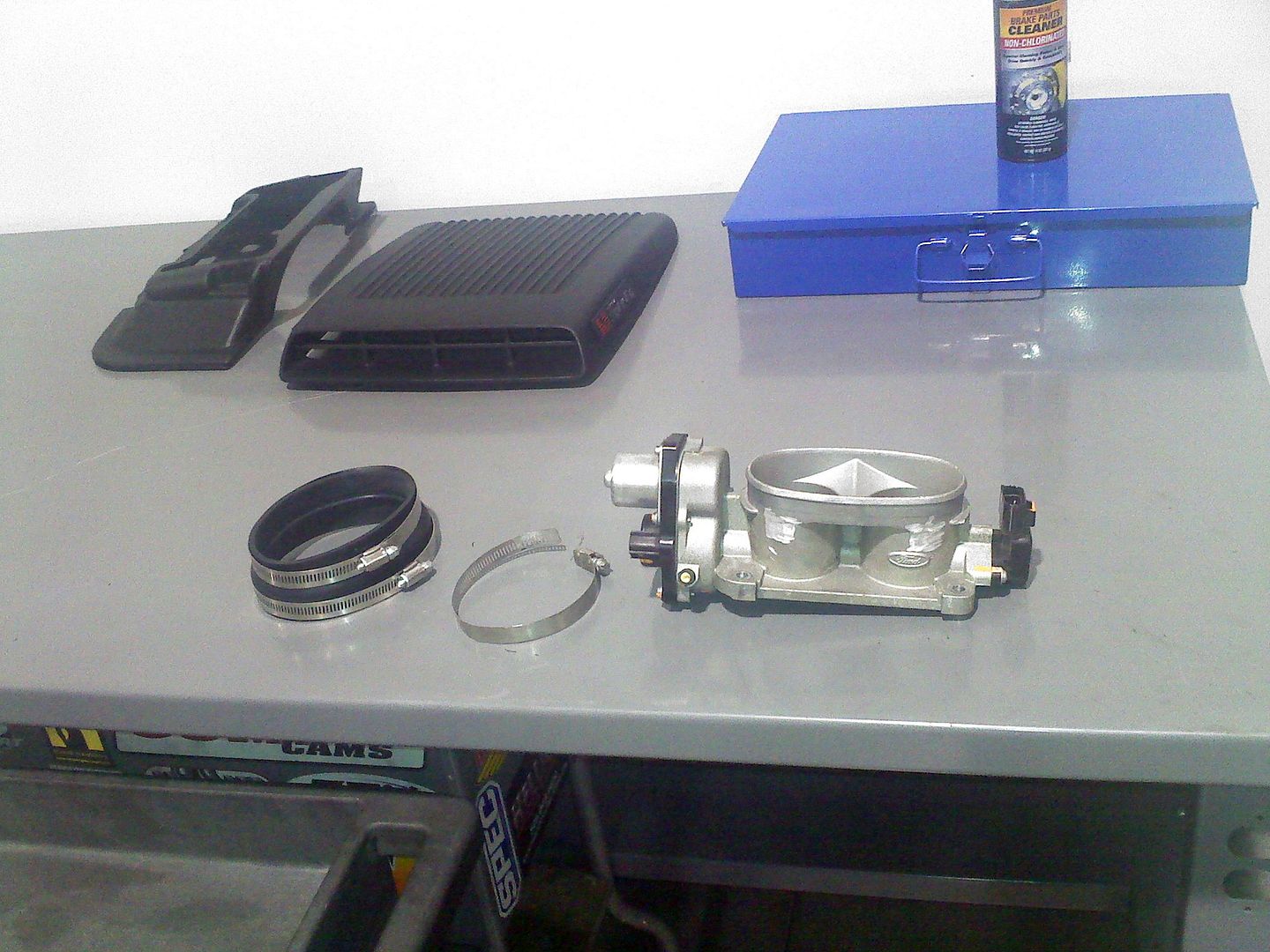 ​
Here are Both the Stock & New FRPP
Throttle Bodies Pics
​
​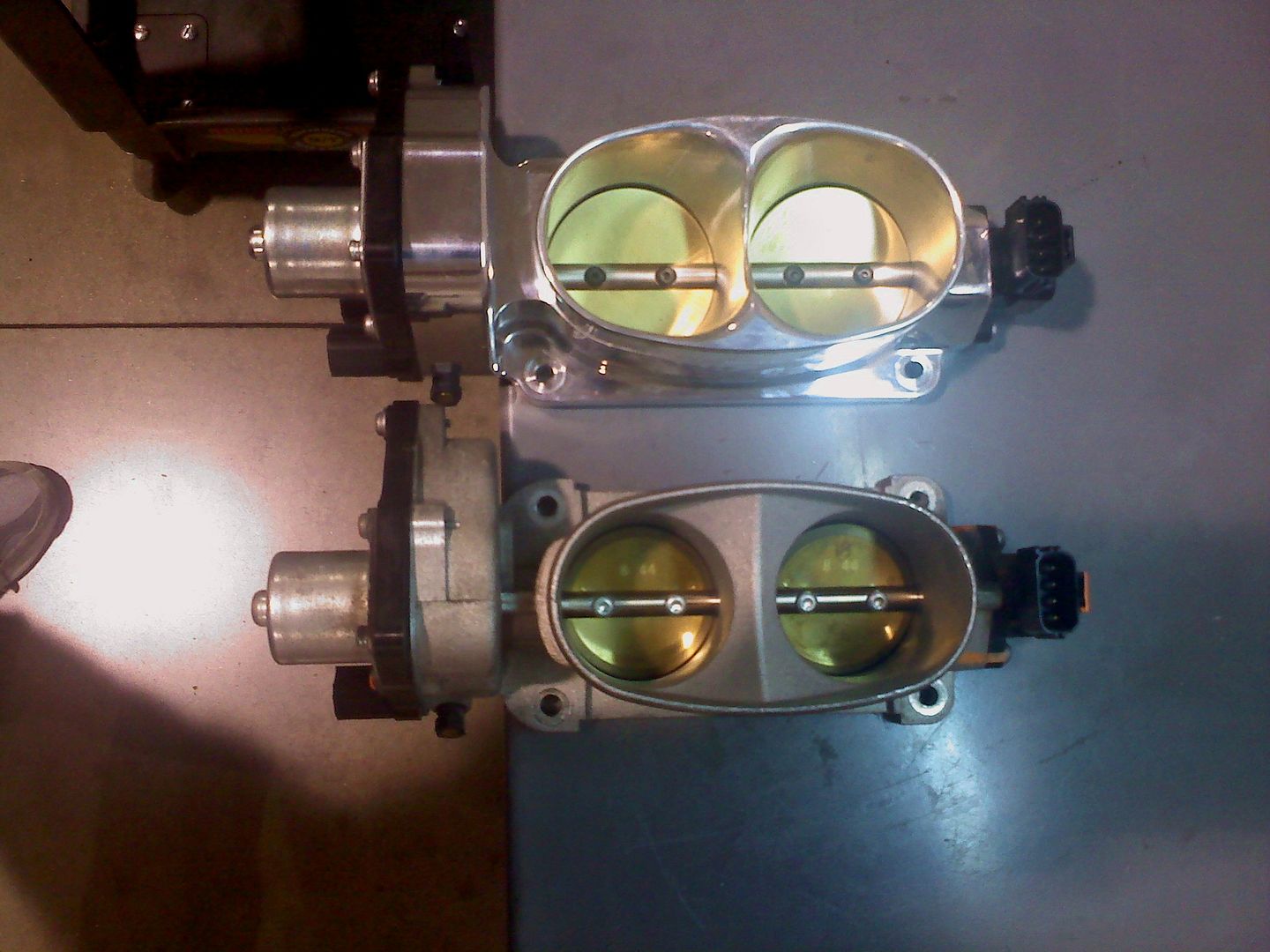 ​
Mike, installing the New FRPP Throttle Body
​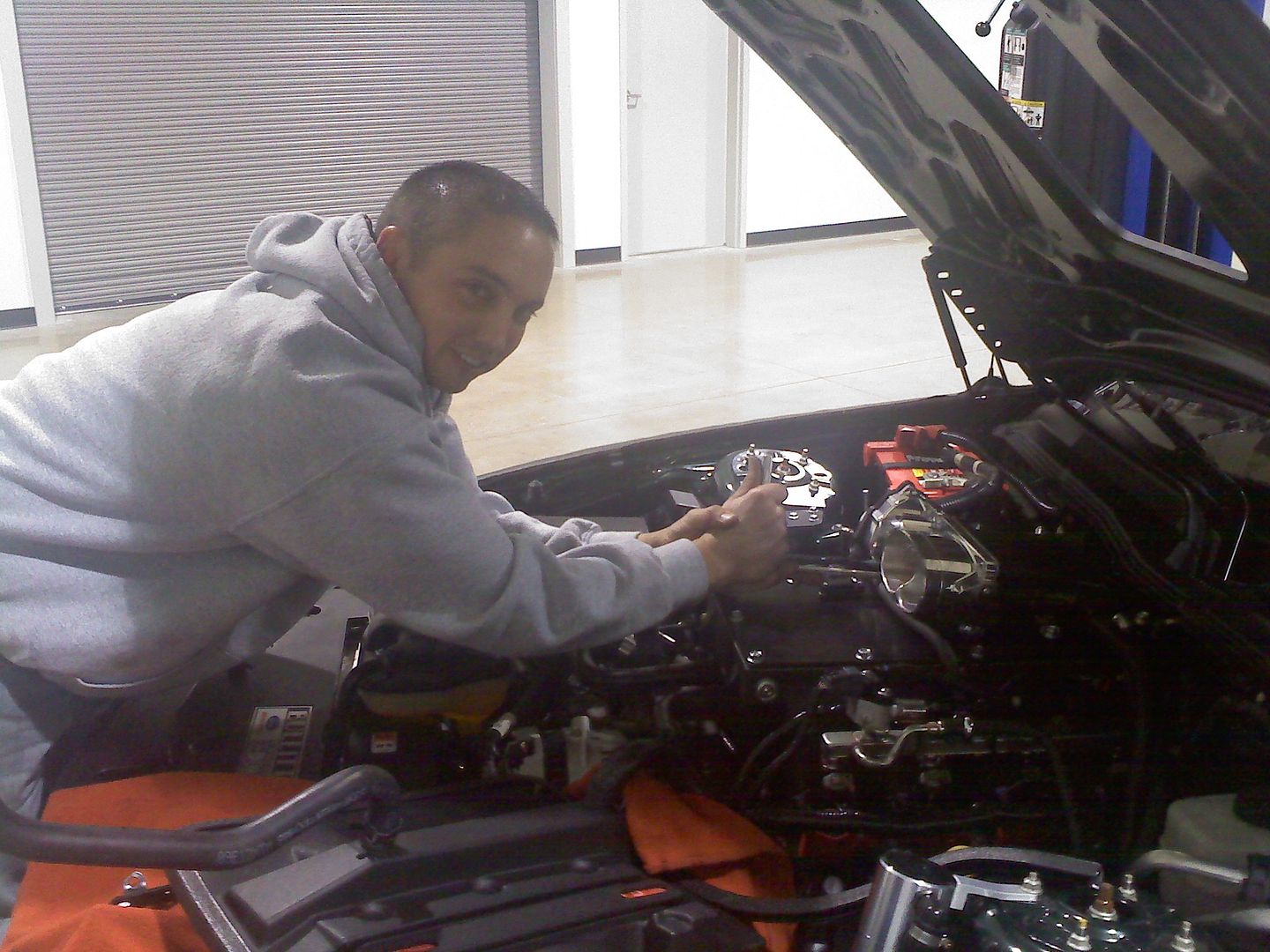 ​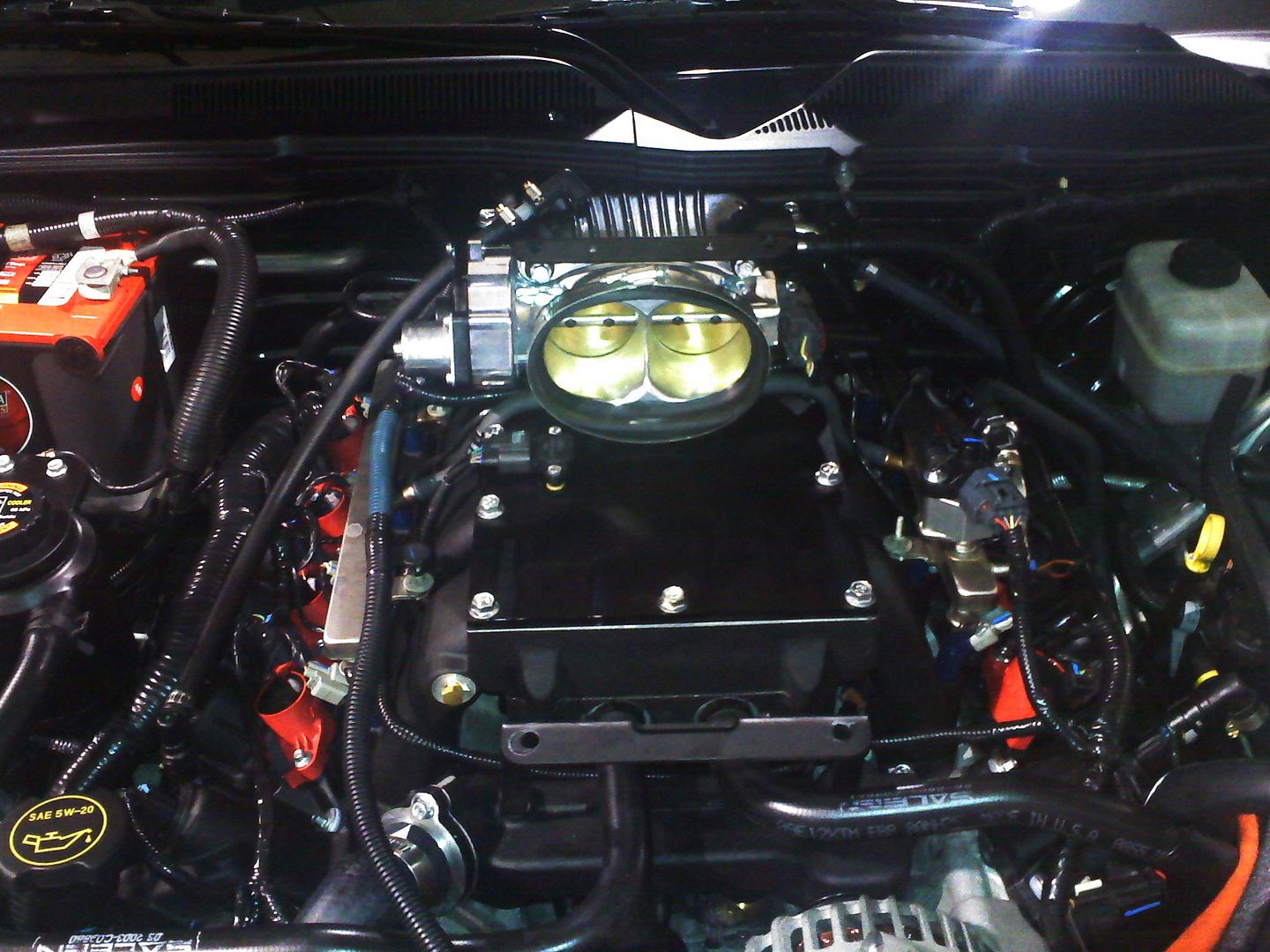 ​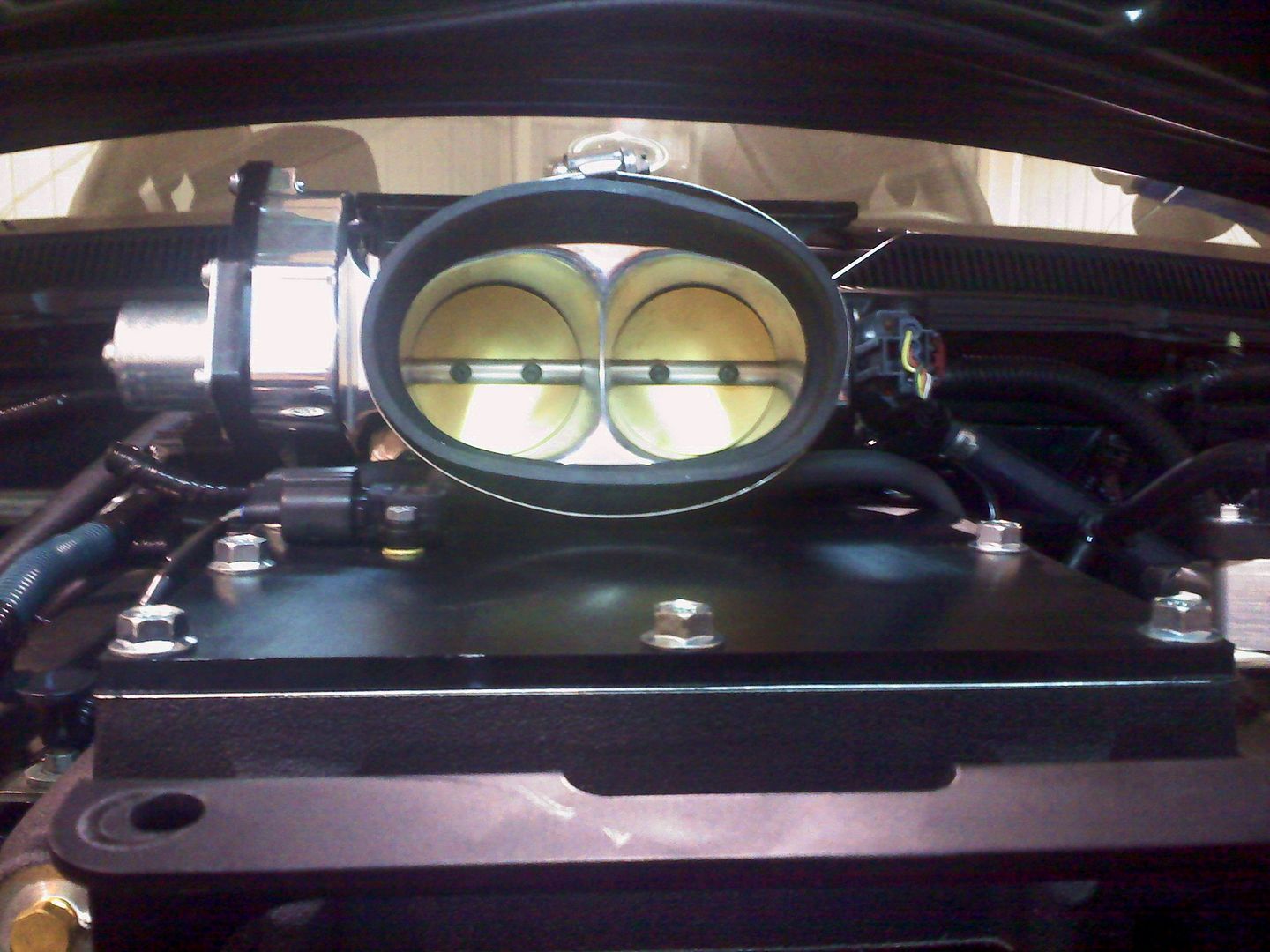 ​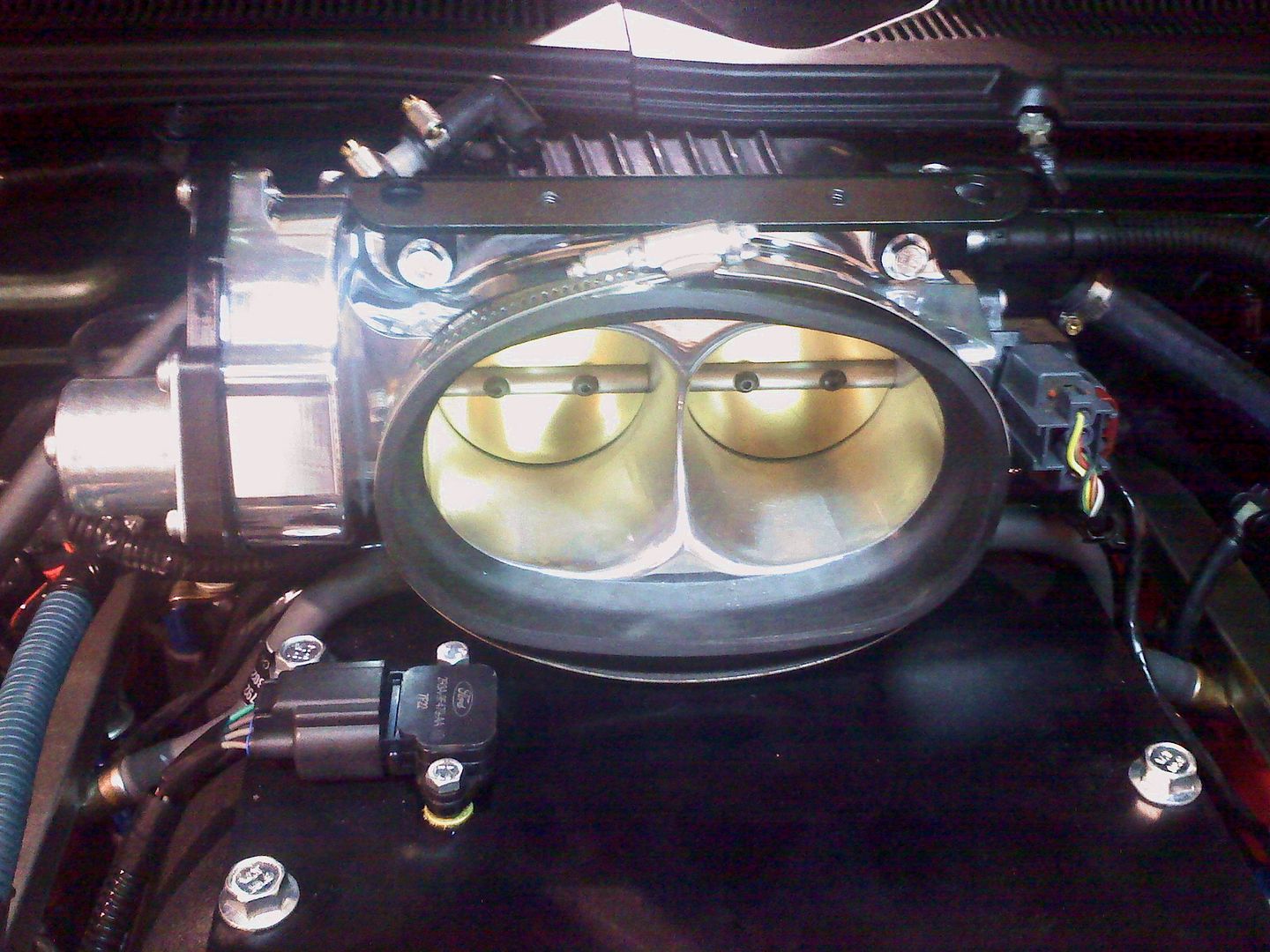 ​
Mike, installing top of Supershaker
​
​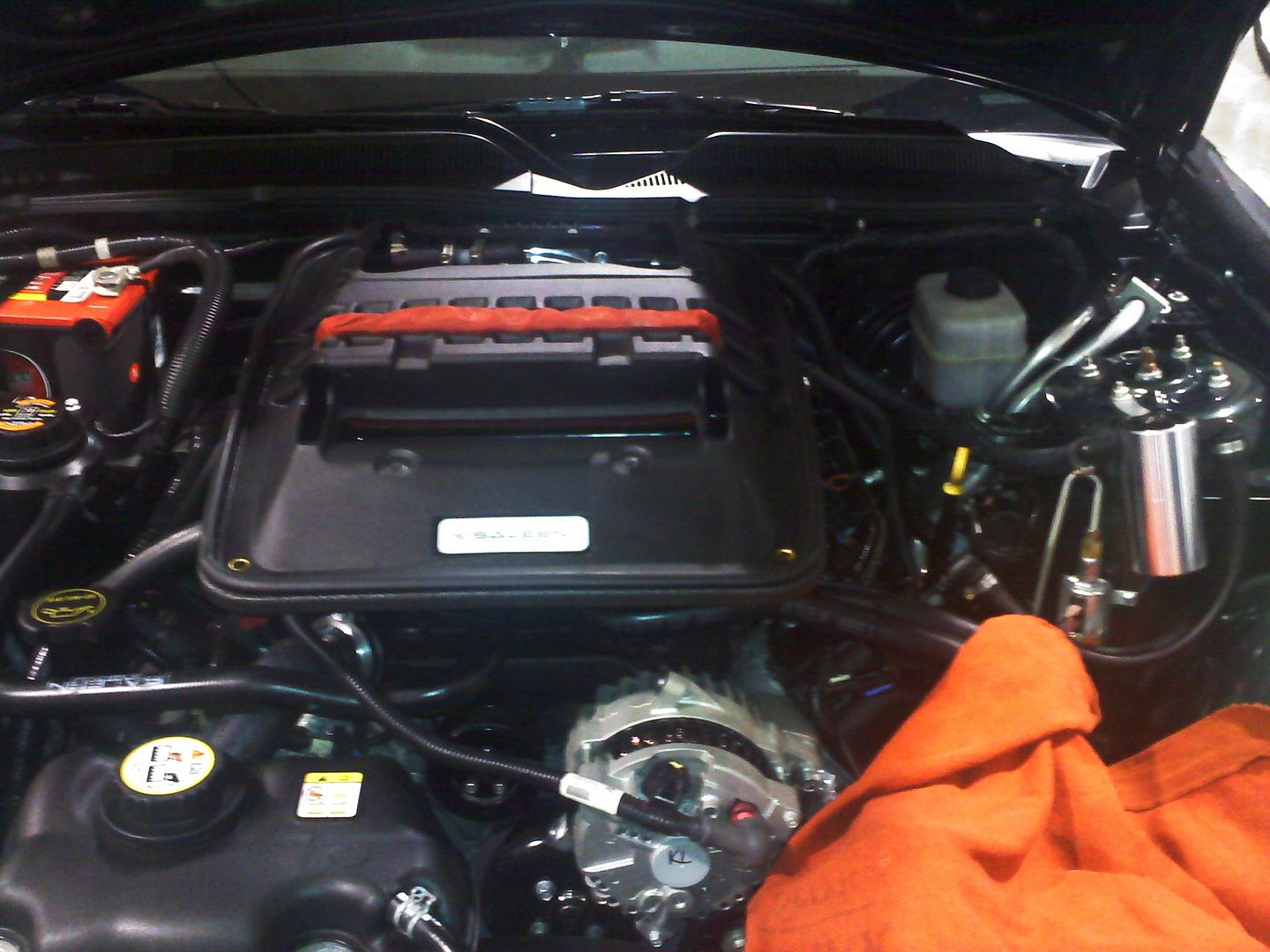 ​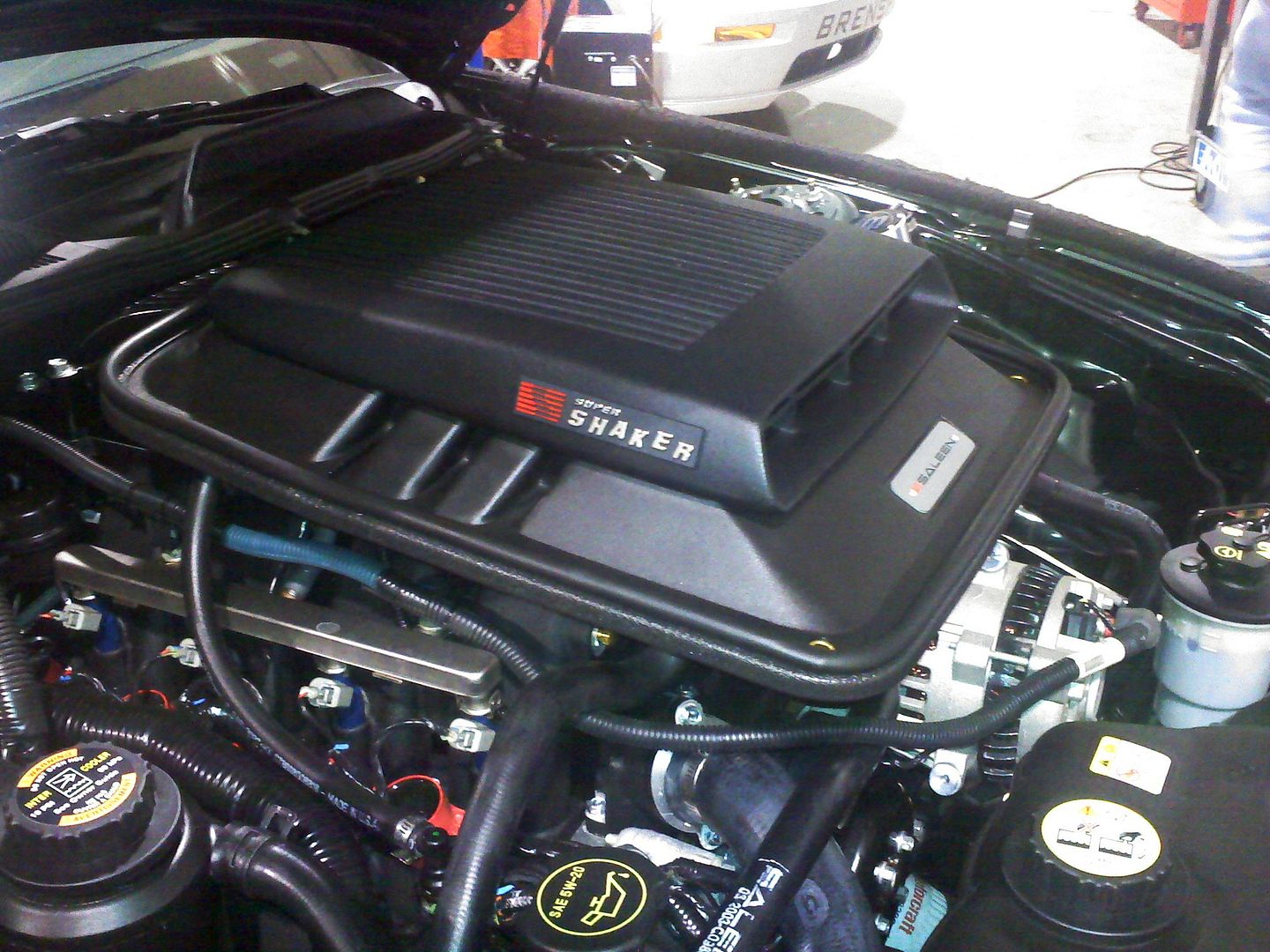 ​
Mike completed install & Loaded New Tune.
​
Here I am arriving at Comfort Inn
Bullitt W/Brenspeed Cover on
​
​
Next morning getting ready to pull
cover off & Leave
​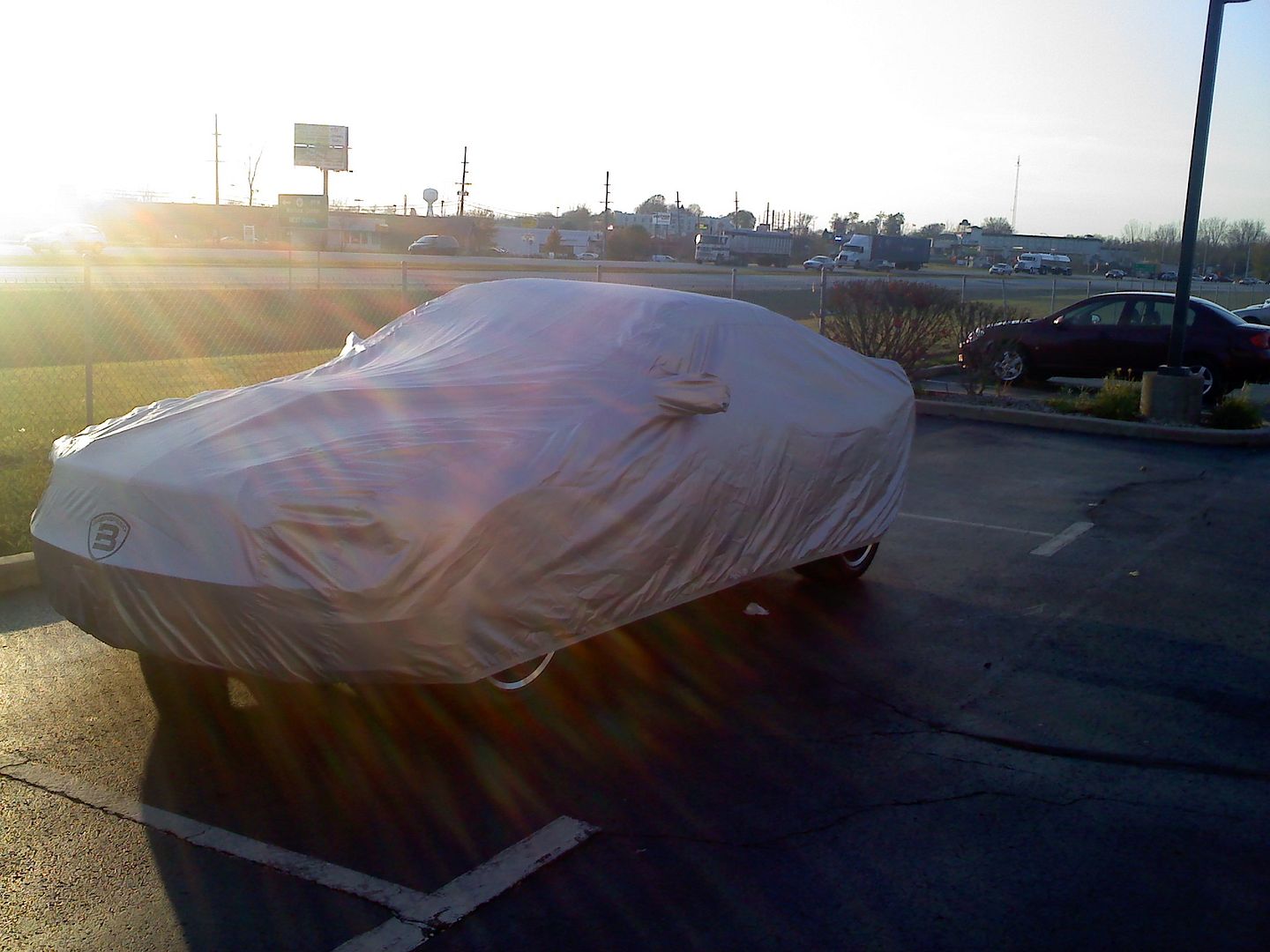 ​
This is interesting I think. These Pics were taken
by a former Ford Engineer that was traveling.
He saw the Bullitt the night before and
was waiting when I came out to leave.
I started it up to let it Warm-Up and
when I came back out he was checking the
Bullitt out.
He shot these Pics and was Excited over the way
the Bullitt now Sounded and the New
H/P & Torque figures.
​
​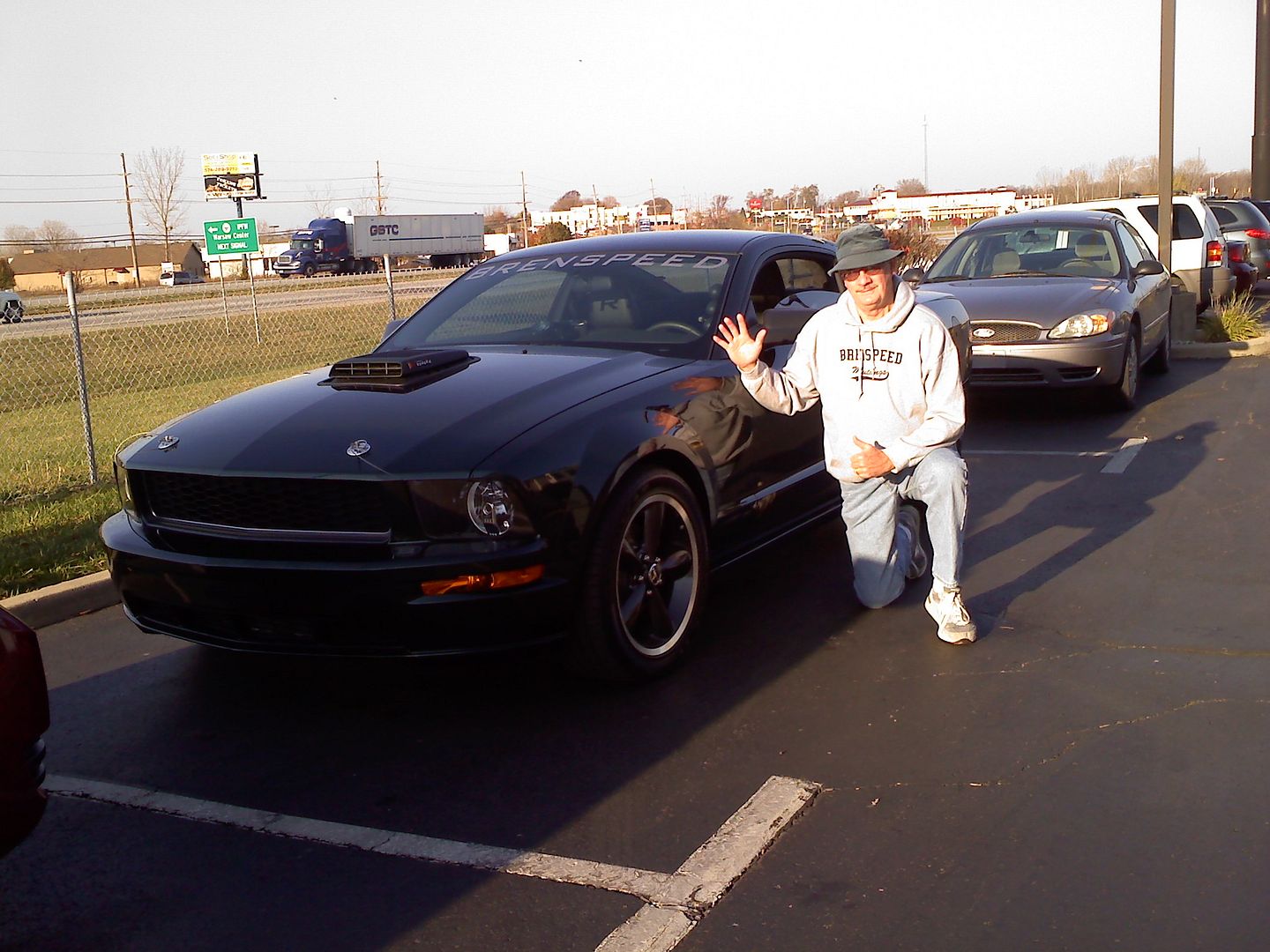 ​
I drove back to BRENSPEED Performance and
waited for Dyno Don to show-up from
Indianapois, IN.
He was going to drive the Bullitt back and
then feed me at The Crackle Barrel
​
Here's Don getting the 08 Bullitt Keys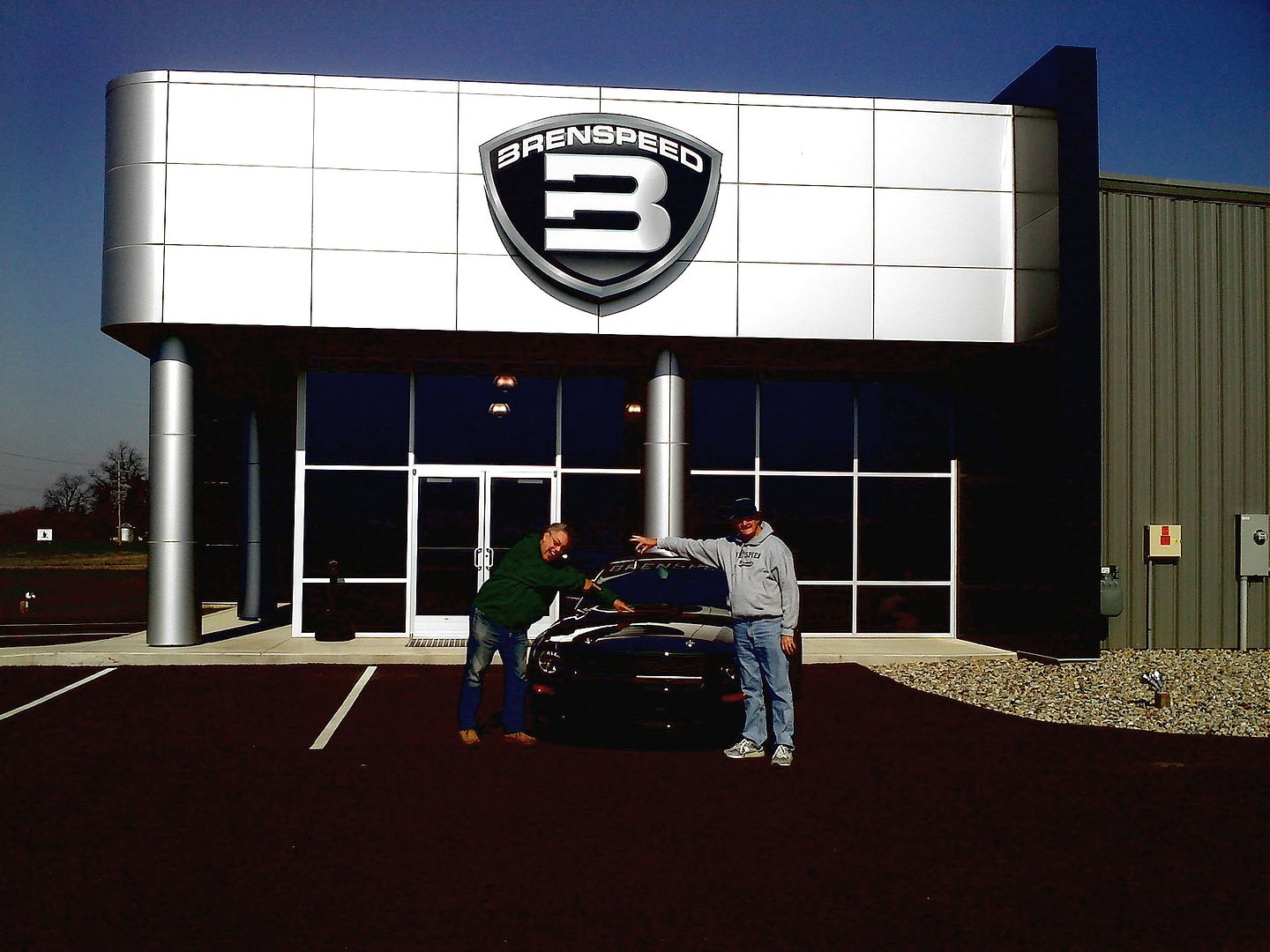 ​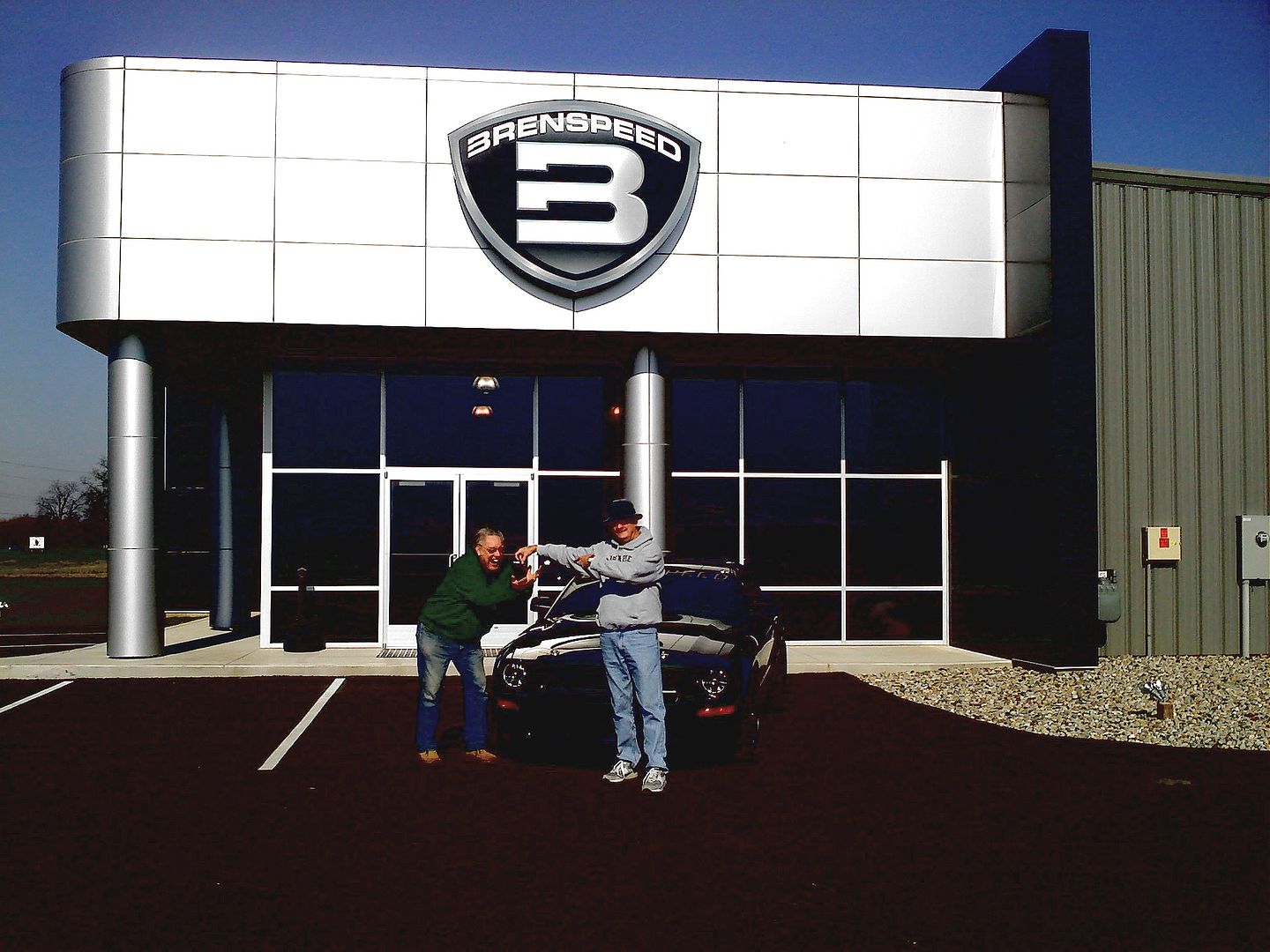 ​
Oh,
From trying to follow Don on the way to Indianapolis, IN. I think he was having
a Great time. :smile: Or it certainly Sounded like it from where I was sitting. :lol:
He will have to tell what He thought.​
tigerhonaker​
​