"DYNOTECH" Aluminum Drive Shaft & Mustang "ENGINE START" Push-Button Mod, PICTURES
IMBOC Members & Guests,
Here are two Mods that I just had Completed today, Saturday Oct.18, 2008.
I think I will do the Text 1st and then the Pics of the Installs.
Here is the 1st Mod the "DYNOTECH" Aluminum Drive Shaft.
​

​
I had a "Roughness/Vibration" at different speeds after having the FRPP 4:10 Gears
installed some weeks back. Not just to the point of being (DANGEROUS) but to the
point of just NOT-Feeling-Right while driving the Bullitt. It would be Smooth at
some speeds and then NOT at other Speeds. So I decided to order from (BRENSPEED)
the "DYNOTECH" Aluminum Drive Shaft. Brenspeed has done alright by me so far so I
saw No-Reason to Shop elsewhere. Brenspeed does "Support" You after the sale. So
this morning the New drive shaft is installed.
Now if I was reading this I would be waiting to read What ??? if any Difference ???
there was after the Install. Here is that information as best as I can describe it.
NO-VIBRATION Period !!!!!!!!!
The car accelerates "QUICKER" .........
The Clunk in the Drive-Train is GONE ..........
On the interstate the car pulls "Quicker & Accelerates" FASTER & HARDER .........
The above is in 5th gear at 70/75/80 MPH ...........
Now from a "Standstill" and taking off HARD, it Leaps Forward in 1st and the shift to
2nd Gear and back on the Power, it Jumps Forward and Lifts Up (No-Not-Off-The-Ground)
in the Front-End. It will Brake the tires loose now really easy if you are into the
Go-Pedal.
"RESPONSE" is just Completely Different with this drive shaft in place.........
Not going to "Mislead" anyone here, there was a lot of traffic as it was the middle
of the day when I left the shop to come back home. So I "Did-Not" have the
opportunity to take it up to 100 MPH Plus Speeds. However based on how Very-Smooth
it is now and the way it "Accelerates" I feel comfortable to say to all of you
that high speeds would be of "No-Concern" other than doing those speeds where it
would be SAFE for You & Others on the Road.
Conclusion:
Was this a "Good Move" and was the "Expense" worth it IMO (In-My-Opinion) ????
YES !!!!!!!!
New Drive shaft on it's way home in Bullitt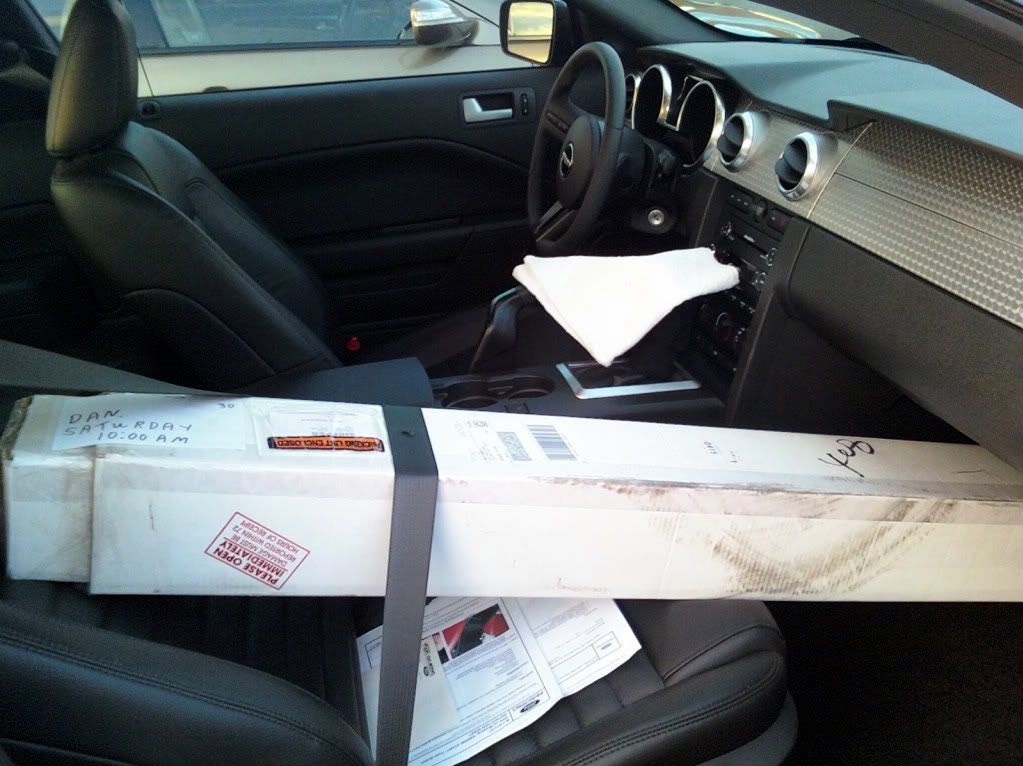 Drive Shaft at Home with "Engine Start" Push-Button in Boxes
tiger holding the "Dynotech" Aluminum Drive Shaft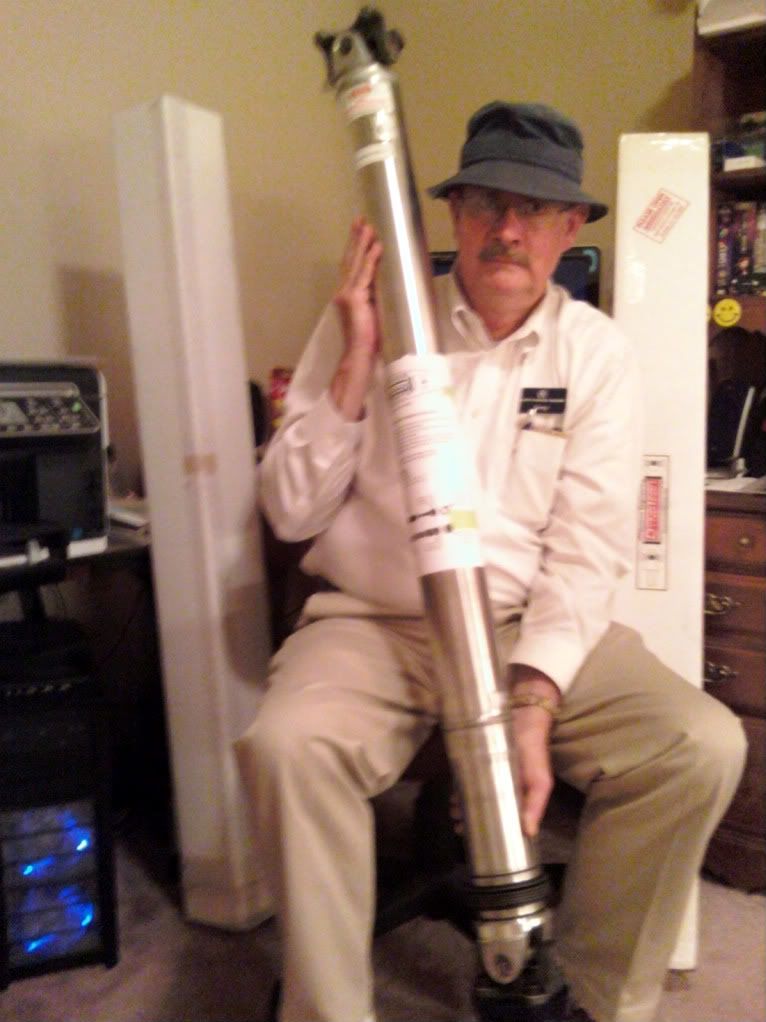 Misc. Pics. of "Dynotech" Aluminum Drive Shaft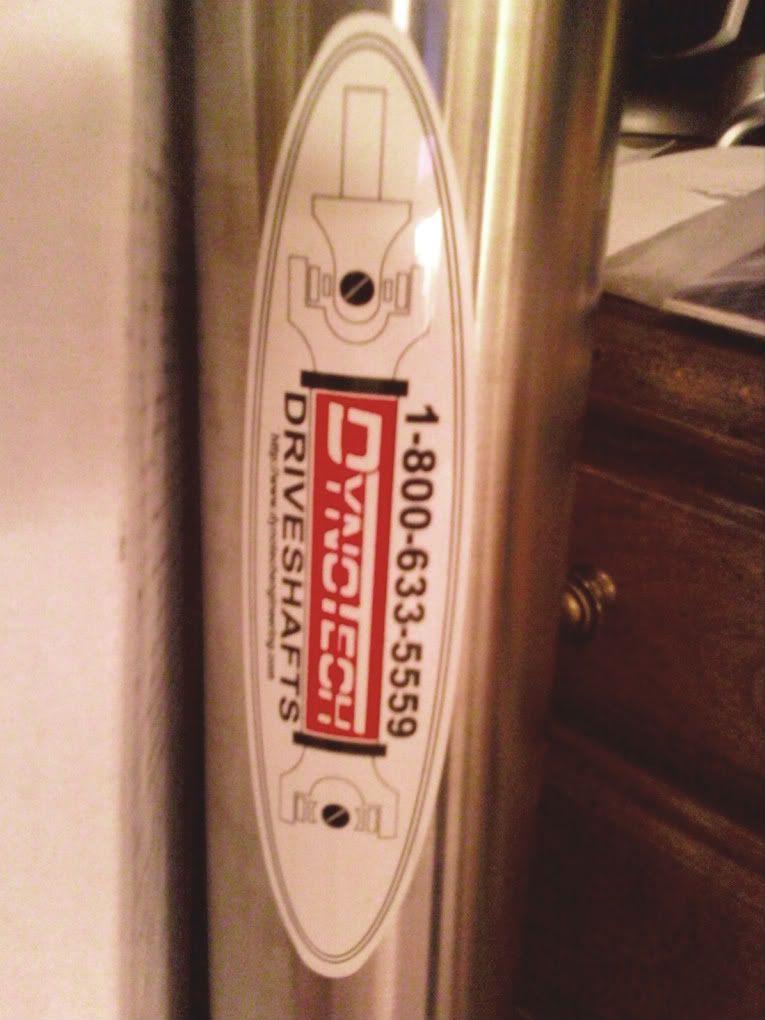 Instruction Sheet for "Install" of "Dynotech" Aluminum Drive Shaft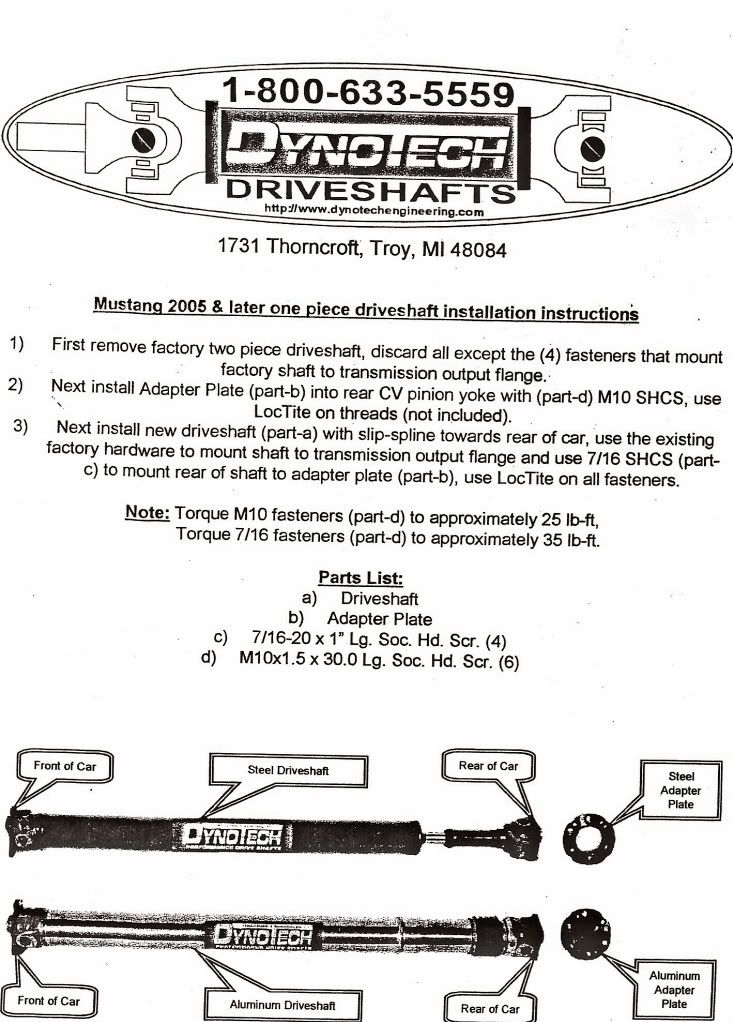 Tech. reading install instructions and "Dynotech" Aluminum Drive Shaft sitting
beside desk waiting for (Unboxing) & Install into Bullitt Mustang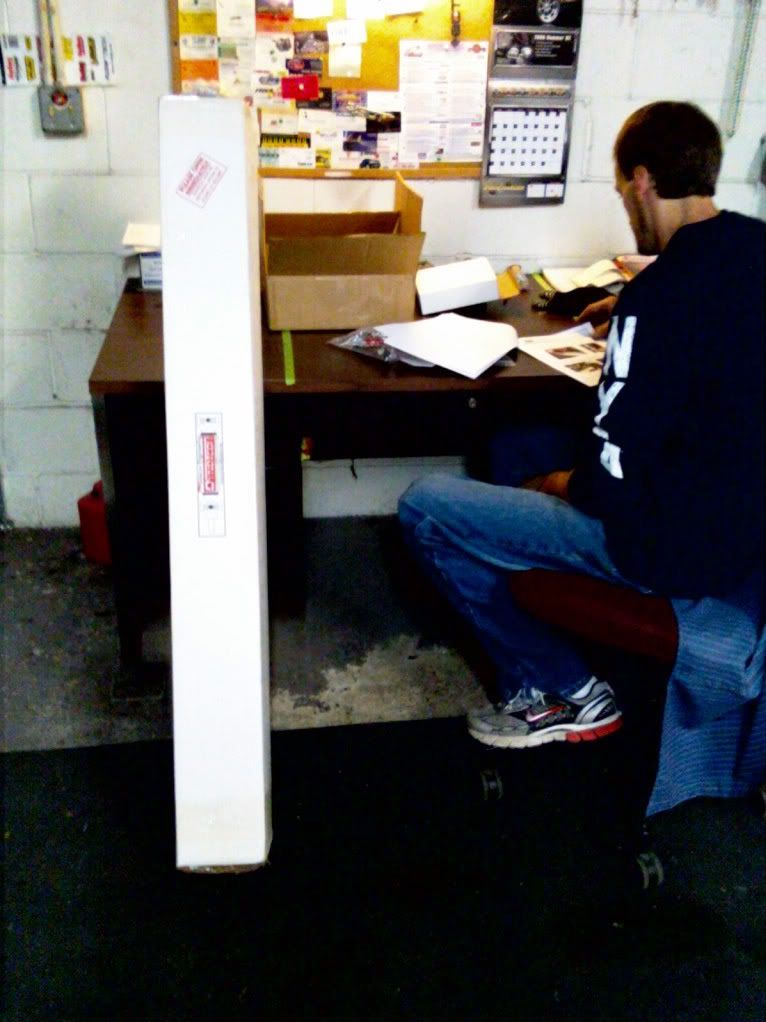 Stock 2-Piece Drive Shaft lying on floor after Removal from Bullitt Mustang
Pictures of "Dynotech" Aluminum Drive Shaft installed in Bullitt Mustang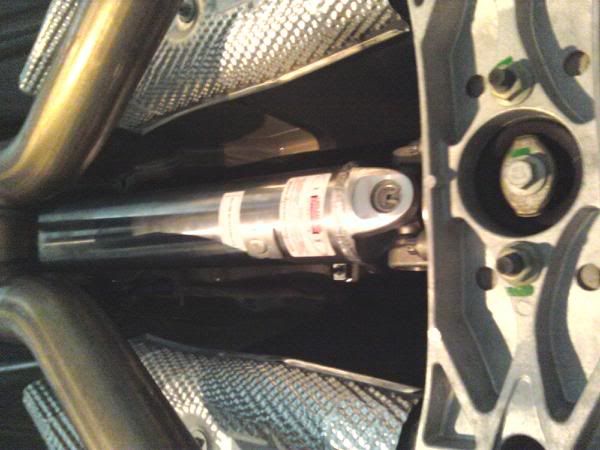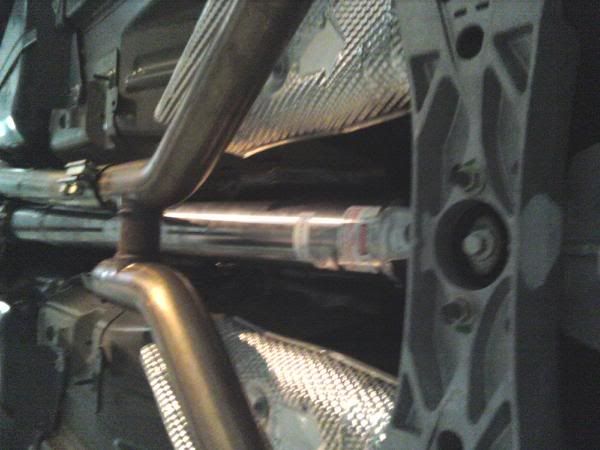 Note:
To those IMBOC Members and Guests that read my Threads and Post here on IMBOC.

I "STRONGLY-SUGGEST" that if you decide to have this Mod done that you have it done where the car is on a Lift and by a Certified Tech.
This is not something that you want to WORRY about coming LOOSE while driving at (High-SPEEDS).
YES, I realize there are IMBOC MEMBERS here as well as Guests that can do this as GOOD if NOT-BETTER than any other Tech out there.
I offer the above comment and "Suggestion" to those that Do-Not have that type of Talent.
...................................................................................
This is about the 2nd Mod completed today, Saturday 18, 2008.
Ford Racing Performance Parts
M-11572-GT
2005-up Mustang "ENGINE START" Push-Button
I saw and have read about this in Forums for some time now and decided to Purchase
it myself. It came in last week along with the "Dynotech" Aluminum Drive Shaft from
Brenspeed. I ordered the 2005-up Mustang "ENGINE START" Push-Button from,
(Imperial Ford).
Now to some I think they would
"Possibly"
not see the "Benefit" of this Mod.
And I have to say right here and now that they Very well could be (Correct) as far
as from a money stand point. Why would this Mod be of really any additional
benefit ???
OK, I said from some points of view concerning money and what is the point in
this !!!!!
My Thinking-On-This .........
This is so Very-Cool I just can't stand it. This is like the most "COOL" thing I
think for that "Extra" BLING on ones Bullitt Mustang. When others see this in your
Dash they might just think ??? DUMMY Button Stuck in Power Port of
Dash :doubt: :doubt: :doubt:
SURPRISE :surprised :surprised :surprised this is the Real Ford GT Super
Car "Starter Button" and YOU have it in Your (Bullitt Mustang) !!!!!!!!!!
Trust that this really looks Hi-Tech as it should since it is the REAL-THING ........
OK, to each their own as far as ????
Do I like this or NO-I-DON'T .......
Here are Pics of the Before-During and After Install of the 2005-up Mustang
"ENGINE START" Push-Button.
Package arrives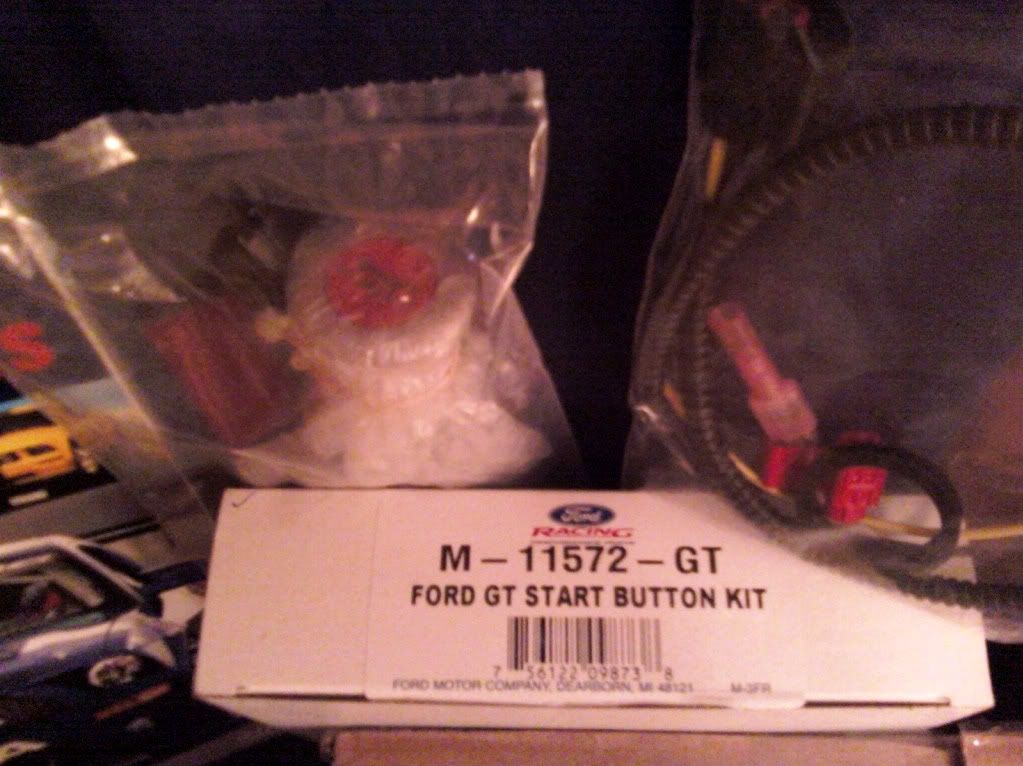 This is what is in the package

Tech reading over the Instructions (BEFORE-STARTING)
Pictures of Bullitt being taken apart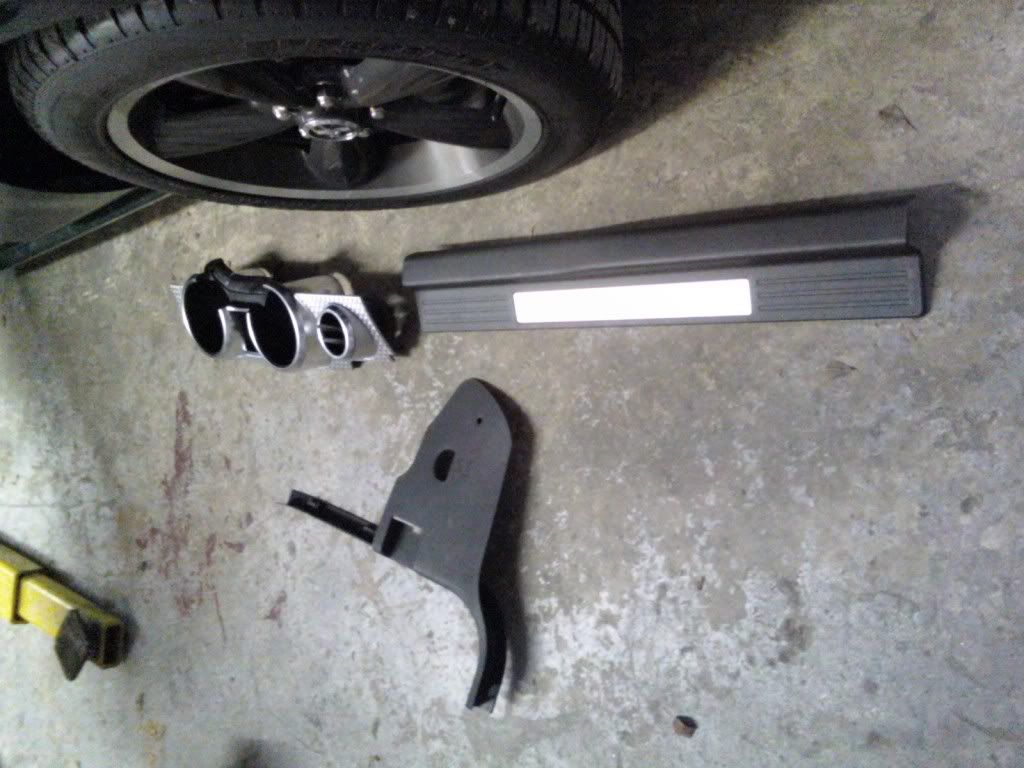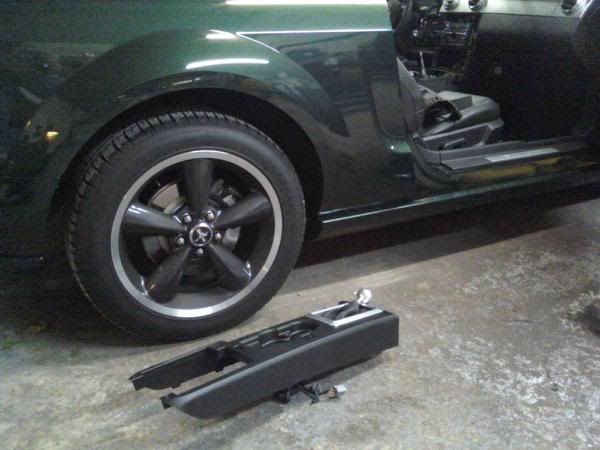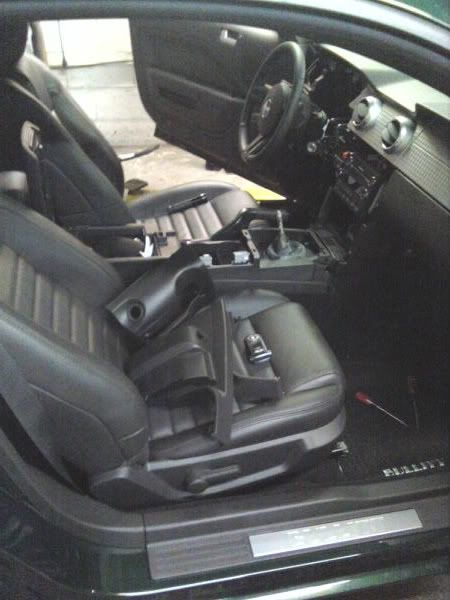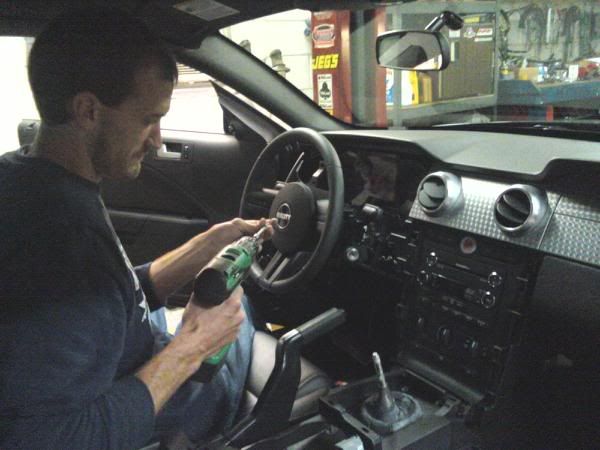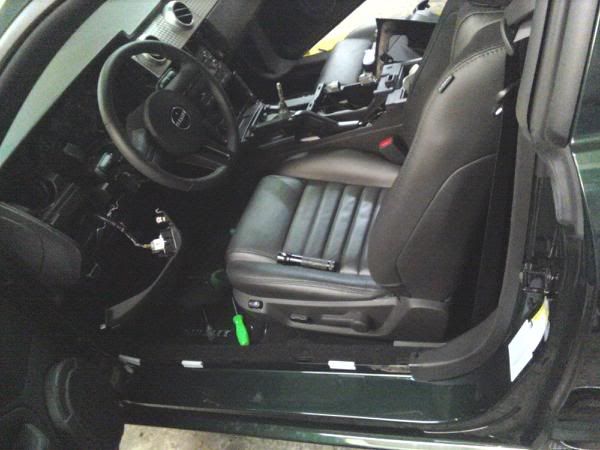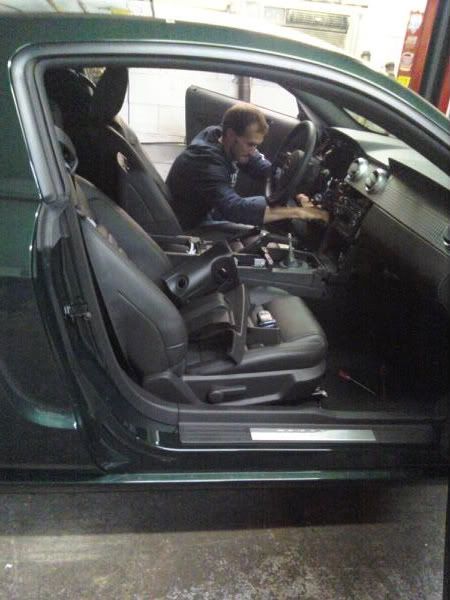 Tech "Heating" up (Heat-Shrink-Tubing) on wiring Connections
(Suggested-Preferred-Method) versus wire Snap-Connections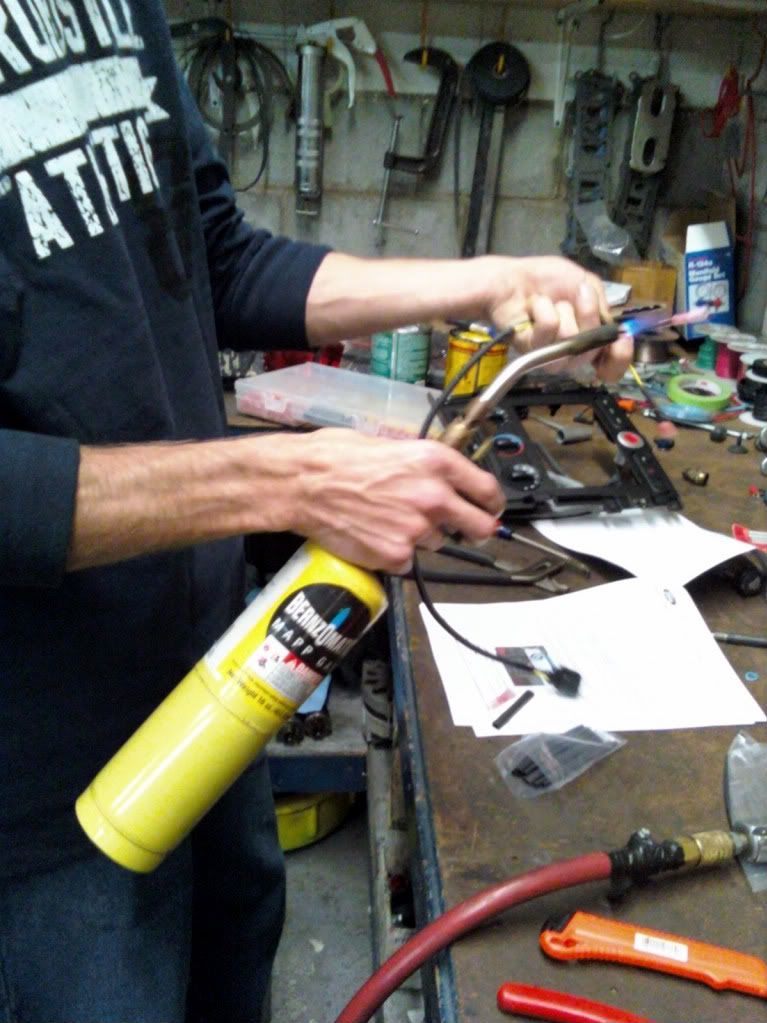 Back side of (Center-Dash) with New "ENGINE START" Push-Button in place
Note:
Although I am sure there are IMBOC Members and Guest that are capable of doing this install, I suggest having a reliable Tech do it for YOU.
There are so many pieces that have to be REMOVED without Braking, Scratching, Defacing them. It IMHO (In-My-Honest-Opinion)
is worth the price to have it done by a "Competent" Tech. It took my Tech a while to complete the install. But it is right and I Do-Not have to
WORRY in the back of my mind that I might just be sitting on the side of the road some Dark-Cold-Night and No-Help around.
This was done as was "Suggested" methods by Ford and when it is all put back together it looks (Exactly) like it came in the (Bullitt Mustang) from Ford.
Front Page of Ford Racing Performance Parts (Instruction Manual)
This Picture is after the Bullitt was ALL back Together and outside ready to LEAVE
I hope that the Thread here will answer questions that you might have regarding the
MODS I had done today. I include Pics when I can as I think they add so much to a Thread that words just Do-Not have the ability to SHOW.
I was Helping the Tech do the Install of the "DYNOTECH" Drive Shaft so I just could not do many Pics as I would have liked to.
But I think you still can see what the General Idea is concerning the install.
If any of you Do-Not know the Stock Drive Shaft weighs in at over 40 Plus Lbs. The Dynotech is like 1/2 of that weight.
It makes a MAJOR Difference in Your Bullitt IMO.
Terry (tigerhonaker)