Discussion Starter
•
#1
•
OK guys. The Bullitt has been mostly stock so far, but I got a good deal on some mods recently and I'm aiming to pick on some bolt-on F-bods.
Here's what's on the car now:
Steed Tri-Ax
MAC O/R Pro-Chamber
Pre-MAF Densecharger CAI
Coming up:
FRPP 4.10's
And a freshly built Trac-Lok (More torque bias than eaton posi
)
And most importantly, NX Wet 100 shot.
With just the MAC O/R pipe, I made 250.4RWHP and 285.9RWTQ. (check out that TQ curve
)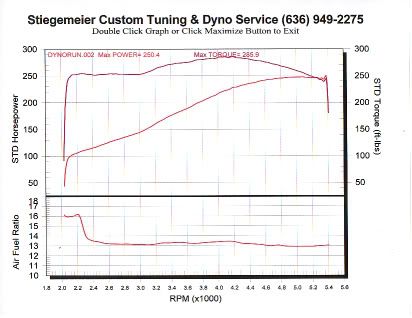 I'm hoping for 350RWHP and around 400RWTQ with the nitrous.
Anyone have a similar setup with some timeslips? I wanna know what the car could ET and MPH at.