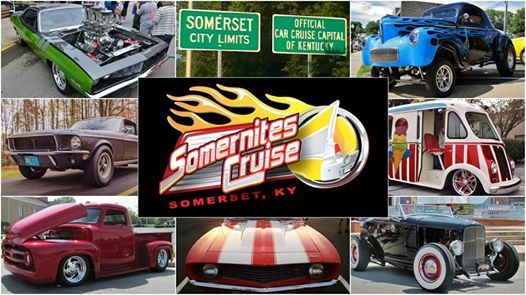 Somernites 2019 Super Cruise!
Hot rods, customs, classics and muscle car owners, you are invited to downtown Somerset, KY on Sat. Aug. 24th for the annual Somernites Super Cruise!.
See the original BULLITT MUSTANG from the classic film at this event!
This is the biggest show of the year with as many as 2000 awesome rides from 15 States!
Vintage to radical customs, mild to wild, all makes & models welcome.
Every show car/truck thru the gates will receive one free chance to win a 40th Anniversary Mustang!
Gates will open at 1:00pm. No pre-registration necessary and admission is FREE!
A few highlights of this show...
*Special Display: the BULLITT MUSTANG- only remaining complete and original car driven by Steve McQueen in the classic film!
*As many as 2000 customs. classics and hotrods on display!
*Special displays scheduled for this show include Ford Racing and Shelby American merchandise trailer and more!
*Huge Mustang Showcase Corral!
*Ultimate Door Prize Drawing at 6:30pm for a 40th Anniversary Mustang. Every showcar or truck thru the gates recieves one free chance to win!
*Huge Car Club Gathering, all car clubs invited!
*Fri afternoon "Run the Rattlesnake" scenic backroad tour!
*Friday Night Block Party at Somerset Mall w/hundreds of hotrods!
*Saturday Morning Fun Run to London Dragway. $10 fee gets you unlimited passes with cash awards for Low ET, Highest MPH and Best Reaction Time! (Street Legal Cars only)
*Huge Vendor Alley & Swap Meet!
*Special Door Prizes and Somernites Long Haul Award!
*Kids Kruze Zone with inflatables and Fun Fountain!
*Biggest 'Cruisin' the Strip' night of the year! 6 lanes packed with hotrods!
SPREAD THE WORD to every custom, classic and muscle car owner you see. Sat. Aug. 24th is the day and Somernites Cruise is the place to be. Don't miss it. It's the Somernites Super Cruise!
OFFICIAL SOMERNITES HOST HOTELS:
Courtyard Marriott- 606.679.0090
Hampton Inn- 606.676.8855
***PLEASE BOOK YOUR HOTEL ROOMS NOW! Do not wait. We anticipate all hotels in Somerset will be packed for this huge show!
Somernites Cruise - Somerset KY Classic Car Cruise 4th Saturday April Thru October
#SomernitesSuperCruise2019
Contact us at
[email protected]
or at 606-USA-CARS (872-2277).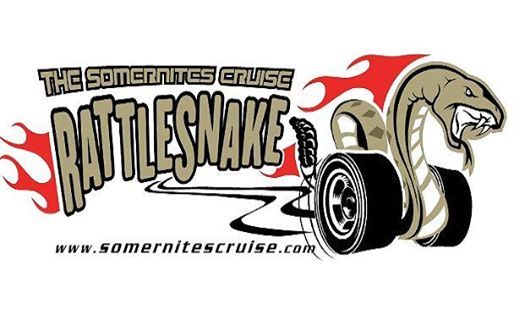 Cruisin' The Rattlesnake!
As part of the big Somernites August SuperCruise Weekend, we invite you to join us Cruisin' The Rattlesnake!
What is The Rattlesnake? It's a special road course established to challenge drivers with 325 turns, curves and cutbacks over a scenic 75 mile drive. Car clubs...this would be a great outing for your entire group! Maps will be provided to participants.
The Cruise on the Rattlesnake is open to ALL makes and models to join the fun.
Rally at Somerset Mall (stoplight #23 on US 27) on Friday, Aug. 23rd at 2:00PM for a 2:30pm departure. Total drive time is 3 hours and it's going to be an amazing trip! You'll see wild and beautiful areas of southern KY including a trip across a dam and a pit stop at Cumberland Falls State Park.
But, be warned, the Rattlesnake isn't an easy ride!
Are you up for the challenge?
All participants will receive a free "I Ran the Rattlesnake" decal.
Pre-registration is NOT necessary and participation is FREE!
.